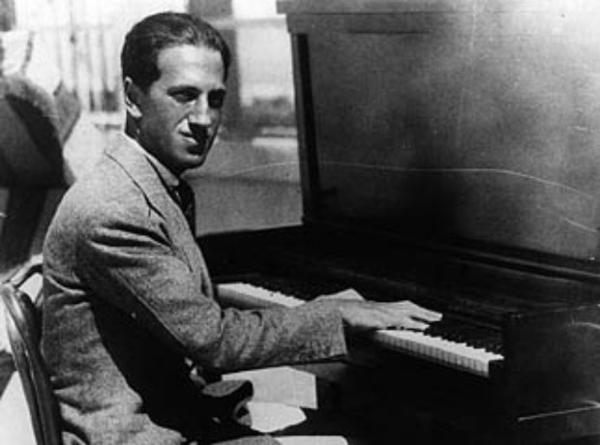 HE PUBLISHED his first song in 1916, when he was 17 years old. He died 2½ months before his 39th birthday. In that short interval, George Gershwin created some of the most essential music of the 20th century. He wrote for Tin Pan Alley and for the New York Philharmonic, for Broadway and for Hollywood. No less highbrow an authority than Arnold Schoenberg said of him, "I know he is an artist and a composer; he expressed musical ideas, and they were new." And no less legendary a tunesmith than Irving Berlin declared, "We were all pretty good songwriters. But Gershwin was something else. He was a composer."
In his own lifetime he was hugely popular. Sixty years after his death he is even more beloved. Dozens of his songs are standards now, endlessly reinterpreted by singers sublime (Ella Fitzgerald) and ridiculous (Twiggy). He was a high school dropout; his neighbors never expected him to amount to much. But the immigrants' kid from the Brooklyn tenements turned out to be one of the giants of American musical history.
They all laughed at Christopher Columbus
When he said the world was round;
They all laughed when Edison recorded sound.
They all laughed at Wilbur and his brother
When they said that they could fly.

They told Marconi
Wireless was a phony
It's the same old cry. . .

They all said we never could be happy
They laughed at us and how!
But ho, ho, ho!
Who's got the last laugh now?
The lyrics, of course, were by his older brother Ira. It was for Ira that Morris and Rose Gershvin (as the surname originally was) bought a piano, but it was George, then 12, who monopolized it. Two years later, piano lessons began; the year after that, he was working for Jerome H. Remick & Co., a music publisher, as the youngest piano pounder in Tin Pan Alley. "He played all day," Ira wrote, "traveled to nearby cities to accompany the song pluggers, was sent to vaudeville houses to report which acts were using Remick songs, and wrote a tune now and then . . . ."
His first hit came in 1919, when Al Jolson sang "Swanee," a number Gershwin had written with lyricist Irving Caesar. It became the biggest hit of his lifetime. Jolson's recording sold more than 2.5 million copies, a mind-boggling number for an age when phonograph music was still in its childhood.
"Swanee" was only the start. Gershwin wrote something on the order of 1,000 songs, most of them for Broadway musicals now forgotten. Few remember the 1924 show "Lady Be Good," but the title song is immortal. So is "The Man I Love." We take it all for granted now, but 70 years ago Gershwin's musical language was new and aggressive. These were no mannered operettas he and his brother were writing. They were jazzy, driving, angular — very American, very 1920s.
Fascinating rhythm,
You've got me on the go,
Fascinating rhythm,
I'm all a-quiver!

What a mess you're making!
The neighbors want to know
Why I'm always shaking
Just like a flivver.
"Strike Up The Band." "Someone To Watch Over Me." "How Long Has This Been Going On." "I've Got A Crush On You." "Let's Call The Whole Thing Off." "'S Wonderful." "Summertime." It is impossible to imagine the American songbook without Gershwin. And if he hadn't died so long before his time, how many more melodies would have flowed from that remarkable pen?
His popular music alone would have guaranteed Gershwin fame everlasting. But from the start he was equally interested in writing "serious" music. In 1924, Paul Whiteman invited him to contribute a piece of music to a concert he was organizing on the theme of "What Is American Music?" Gershwin was just wrapping up the score for a new musical, and it wasn't until he was headed to Boston for the pre-Broadway tryout that he began to focus on Whiteman's commission. On that journey, "Rhapsody in Blue" was born.
"It was on the train, with its steely rhythms, its rattle-ty-bang that is often so stimulating to a composer that I suddenly heard — and even saw on paper — the complete construction of the Rhapsody, from beginning to end," he later recalled. "I heard it as a sort of musical kaleidoscope of America."
There had never been anything like "Rhapsody in Blue," with its fabulous glissando clarinet opening. In 1928, "An American in Paris" premiered at Carnegie Hall, and there had never been anything like that, either, with its bluesy themes and scoring for taxi horns. And it goes without saying that "Porgy and Bess," Gershwin's 1935 masterpiece, was something astonishingly new under the sun. The reviews were unfriendly, and the show closed after just 124 performance. But Gershwin always knew it was his greatest creation. Today is there anyone who doesn't know?
The way you wear your hat,
The way you sip your tea,
The mem'ry of all that —
No, no! They can't take that away from me!

The way your smile just beams,
The way you sing off key,
The way you haunt my dreams —
No, no! They can't take that away from me!
In time the Rockies may crumble, Gibraltar may tumble. But Gershwin's music? It's here to stay.
(Jeff Jacoby is a columnist for The Boston Globe).
-- ## --
Follow Jeff Jacoby on Twitter.
Discuss his columns on Facebook.
Want to read more? Sign up for "Arguable," Jeff Jacoby's free weekly email newsletter.