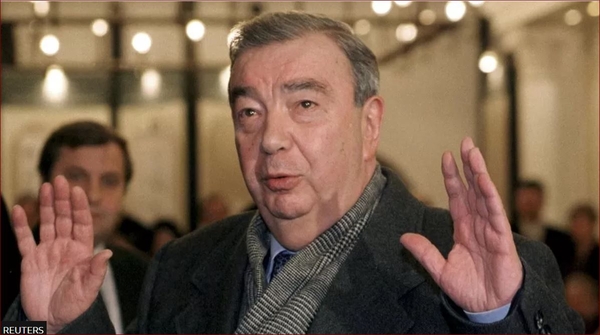 Yevgeny Primakove is described by Time magazine as a "respected player in international affairs." The Center for Security Policy, a foreign-policy think tank, labels him "one of the most insidiously dangerous men on earth." Which is it?
OFTEN MISTAKEN, never shy, that well-known pundit Conventional Wisdom has weighed in on the appointment of Yevgeny Primakov as Russia's new prime minister. On the whole, C.W. likes what he sees.
The new premier was described, in the words of one anonymous White House official last week, as "a familiar face who inspires confidence." The New York Times characterized him in an editorial as a man of "urbanity, longevity, and familiarity with international issues" who "can be charming, wryly amusing and cold-bloodedly pragmatic." On its news pages, The Wall Street Journal hailed Primakov's "flair for compromise that belies his appearance as a stolid Soviet-era apparatchik," while Therese Raphael of the paper's European edition paints him on the opinion pages as a protean negotiator whose ascent reduces the chances of social unrest in Russia.
C.W. agrees with Time's characterization of Primakov as a "respected player in international affairs." Sure, he has on occasion been at cross-purposes with US policy. But he is a solid, sensible guy, C.W. believes, and there is every reason to expect, as President Clinton's spokesman Michael McCurry put it, "a good and close working relationship with Prime Minister Primakov."
If Conventional Wisdom is right, the only thing that should concern Americans is how best to help Primakov save Russia's crashing economy. But what if C.W. is wrong?
Here is a different view: Primakov's elevation to power represents not a gain for market reforms, democracy, and cooperation with the West but a setback — a return to heavy-handed statism, a crackdown on political liberty, and a bitter revival of anti-American hostility. Soothing noises from the State Department notwithstanding, the new Russian premier is not someone we can do business with, as Margaret Thatcher said of Mikhail Gorbachev; he is someone who has singlemindedly striven to thwart US interests at every stage of his career.
He joined the KGB in his 20s, was trained in Arabic and English, and became head of Radio Moscow's Arabic broadcasting service. As a "journalist" (read: spy), he monitored the Middle East for the Soviet Communist Party; over time he became the KGB handler for some of the region's most vicious dictators: Saddam Hussein in Iraq, Moammar Khadafy in Libya, and Hafez Assad in Syria. When the Soviet Union marched on Afghanistan in 1979, it was Primakov who wrote Moscow's ideological defense of the invasion. And it was Primakov who, as chief of the foreign intelligence branch of the KGB, supervised Russian spies in the United States. Among his prize agents was Aldrich Ames, the worst traitor in CIA history.
Primakov has repeatedly endeavored to undermine US foreign policy. In the weeks leading up to Operation Desert Storm, he pressed for a deal that would have allowed Iraq to keep Kuwait. When Serbia's genocidal "ethnic cleansing" began in the Balkans, Primakov defended Slobodan Milosevic, the Serbian strongman. As head of the Russian intelligence service and later as Russian foreign minister, he was behind mass murder in Chechnya, coup attempts in Georgia and Azerbaijan, and economic warfare against Ukraine and the Baltic states.
This is the Russian with whom the White House expects a "good and close working relationship?"
Primakov proceeds from the assumption that Russian greatness is measured by the ability to foil the United States. "The goal of Primakov's policy," Ariel Cohen of the Heritage Foundation wrote last winter, "is . . . to weaken US influence in the Middle East and in Eurasia and to establish Russia in the Middle East as a power equal to the United States."
To that end, he has presided over the sale of ballistic missile systems and nuclear weapons technology to China and Iran. He has agreed to supply Cyprus with S-300 antiaircraft missiles, a sale that would almost assuredly trigger a dangerous crisis between two NATO allies, Turkey and Greece. He has shielded Saddam Hussein from United Nations discipline with such success that the Clinton administration no longer threatens to use force to stop Iraq from developing weapons of mass destruction.
Primakov is also maneuvering to get UN sanctions on Iraq lifted; it is only a matter of time before Washington backs down on that issue as well.
"All this talk about Russia staying on the path of reform and seeking good relations with the West — it's all Potemkin stuff," says Frank Gaffney, who was Ronald Reagan's assistant secretary of defense. "The White House needs to put the American public on notice that it's over in Russia. We are now dealing with people who are real menaces to our interests."
Primakov's installation as prime minister marks the end of the end of the Cold War. He is almost certain to lead the country into further economic disaster. His first appointees have been old Soviet apparatchiks; already there are calls for such deadly "reforms" as printing more rubles to pay the government's bills and requiring exporters to surrender all hard currency earnings to the government. As the Russian economy tumbles into chaos, Primakov will move to appease the public by playing the anti-America card even more aggressively.
The Center for Security Policy, an unsentimental foreign policy think tank, warns that Primakov is "one of the most insidiously dangerous men on earth."
No, that isn't what Conventional Wisdom says. But what if it's true?
(Jeff Jacoby is a columnist for The Boston Globe).
-- ## --
Follow Jeff Jacoby on Twitter.
Discuss his columns on Facebook.
Want to read more? Sign up for "Arguable," Jeff Jacoby's free weekly email newsletter.