TEN DEMOCRATS are competing to succeed Joe Kennedy in Congress, and from the attention their primary battle has received, you might think the outcome actually mattered.
The 8th Congressional District fight has received saturation coverage in the Boston media. The candidates have been interviewed and reinterviewed. Their debates, their finances, their ads, their poll numbers — everything about their campaigns has been obsessively reported. Most of the national media have weighed in with stories as well.
Some of this fuss is deserved. The Boston-Cambridge seat in Congress has a remarkable pedigree. Before Joe K carpetbagged into the district from Marshfield to claim it in 1986, it was occupied for many years by Tip O'Neill; before him, by John F. Kennedy; and before him, by James Michael Curley, the legendary governor, mayor, and prison inmate.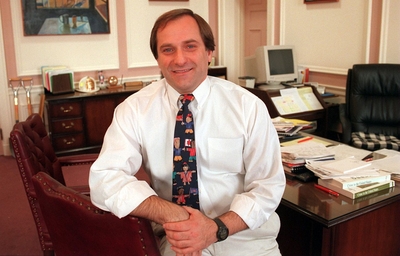 Somerville Mayor Michael Capuano is one of the crop of liberal Democrats running in the 8th Congressional District race.
But none of the candidates running in this race is an O'Neill, a Kennedy, or a Curley. None rises head and shoulders above the rest. None — except former Boston mayor Ray Flynn, whose drinking has been examined on "60 Minutes" — has a national reputation. None has the charisma of JFK, the abundant political gifts of O'Neill, or even the corrupt charm of Curley.
Some of these candidates are handsome, some are earnest, some are good talkers. But politically? They are birds of a feather, a flock of barely distinguishable left-wing Massachusetts liberals. Flynn is the bibulous liberal, Michael Capuano is the Italian liberal, Susan Tracy is the lesbian liberal, George Bachrach is the Jewish liberal, John O'Connor and Chris Gabrieli are the millionaire liberals, and Marjorie Clapprood is the liberal who likes to talk dirty. But on nine issues out of 10, they all have the same opinions, say the same things, and would vote the same way. Most are even more left-leaning than Joe Kennedy. (Example: He supports the death penalty. All his would-be successors save one — Gabrieli — are opposed.)
For all the publicity this contest is getting, the most salient fact about it has gone unmentioned: It will make no difference who wins. Assuming that the seat goes to the victor in the primary, the next US representative from the 8th District will be, ho-hum, another Ted Kennedy/Ed Markey/Barney Frank liberal from the outer left precincts of the Democratic Party. Golly, how surprised everyone in Washington will be.
Not only will it make no difference who wins this race, but whoever wins this race will likely make no difference.
For the new congressman from Cambridge and Boston will be a freshman in a body where seniority is consequential. He (or she) will be a Democrat in a Congress with a Republican majority — and if the tea-leaf diviners are right, the 106th Congress will be even more Republican than the 105th.
It will be hard enough to accomplish anything as a freshman Democrat. As a freshman Democrat from Massachusetts, Joe Kennedy's successor is assured of having no clout. The Bay State, after all, is one of only four states with an all-Democratic congressional delegation and the only one of significance in terms of industry or population. There is a price to be paid for shunning the nation's dominant political party. The price for Massachusetts is a notable lack of influence in Washington.
I am no fan of massive congressional spending and have little doubt that America would be better off if the federal budget were reduced by about 50 percent. All the same, a useful measure of a state's sway in the capital is how it fares when the annual spending pie is dished out. Massachusetts depends deeply on federal highway funds to sustain its expensive Big Dig, the largest public works project in the country; few types of government largesse are as critical to the Bay State. Yet this year Massachusetts was unable to prevent a sharp drop in its share of the federal highway appropriation. Worse: It was the only state whose funds were cut.
That would not have happened if voters in 1996 had retained Peter Blute and Peter Torkildsen, the Republicans who represented the 3d and 6th congressional districts. (Or if William Weld had been elected to the Senate.) Voters no doubt had their reasons for adding two more liberal Democrats to what was already a very liberal Democratic delegation. But their decision wasn't cost-free. If Massachusetts chooses to have nothing to do with the Republican caucus on Capitol Hill, it shouldn't be surprised when the Republican caucus returns the favor.
Of course, voters can't be blamed for electing Democrats if the Republicans don't bother to nominate decent candidates. During Weld's 6½ years as governor, the state's Republican infrastructure disintegrated, with the result that a bare handful of Democratic officeholders in Massachusetts face a GOP challenge this year. There are credible Republican aspirants for only two of the state's 10 seats in the US House — state Senator Matthew Amorello in the 3rd and Torkildsen, the former congressman, in the 6th.
What that means is that those are the races that really matter, the races where something is at stake. Come November, voters in the 3rd and 6th will face a genuine choice — a contest between candidates of different parties, different views, and different values. Next week's primary in the 8th, by contrast, is a competition among clones. Yeah, it's been an entertainment. But it makes absolutely no difference who wins.
(Jeff Jacoby is a columnist for The Boston Globe).
-- ## --
Follow Jeff Jacoby on Twitter.
Discuss his columns on Facebook.
Want to read more? Sign up for "Arguable," Jeff Jacoby's free weekly email newsletter.