LIKE HIS marriage, Bill Clinton's career is built on lies. For as long as he has been a political figure, he has trafficked in falsehood. He has lied about things that really mattered and about things that really didn't. There was the lie about not raising taxes. The lie about not having inhaled. The lie about China's most-favored-nation status. The lie — the lies — about Gennifer Flowers.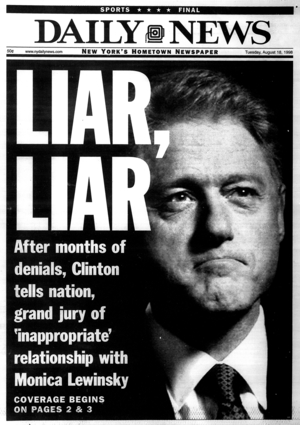 For as long as he has been a political figure, Bill Clinton has trafficked in falsehood.
He lied about filling out his term as governor, he lied about partial-birth abortion, he lied about being drafted, he lied about nonexistent Arkansas church burnings in his youth. Those missiles that weren't pointed at America's children were a lie, and so were the White House travel office staffers he fired to "save money." He was the only president to come to office knowing something about agriculture, he said. "The Lincoln Bedroom was never 'sold' " for political contributions, he said. Raw FBI files on hundreds of Republicans ended up in the White House because of "an honest bureaucratic snafu," he said. All lies.
As some insects instinctively avoid the light, Bill Clinton instinctively avoids the truth. Not because he can't control himself — anyone who can propel himself from Hope, Ark., to the White House possesses self-control in spades — but because he has learned that lying pays. He has learned that he will be rewarded for telling the right lies at the right time, and that while many will recognize his dishonesty, few will hold him accountable for it.
Americans know this president is false. On the day he was reelected in 1996, exit pollsters reported that 60 percent of those voting did not consider Clinton "honest and trustworthy." They reelected him anyway. Which is why he treats them with the same contempt he treats his marriage. In a democracy, the people are entitled to knowingly return a liar to the highest office in the land. They are not entitled then to demand his respect.
In the days leading up to Monday's grand jury testimony and late night speech, it was predicted that the president was finally going to come clean about his squalid affair with Monica Lewinsky — that he would apologize for having lied so insistently and having gone to such lengths to cover it up. But to do that, Clinton would have had to change the habits of a lifetime.
So of course he didn't come clean on Monday. He refused to answer some questions during the grand jury session; he answered others with vague nonresponses; and he took long breaks to consult with his lawyers. That is not the behavior of a witness "anxious" to testify "completely and truthfully," as Clinton described himself on July 31. It is the behavior of a deceiver struggling to keep up his deceit.
He hasn't apologized. The words "I'm sorry" were not in his speech on Monday, nor the words "forgive me," nor the words "I'm ashamed." His brief admission of wrongdoing came across as little more than a prelude to attacking Kenneth Starr and insisting that "even presidents have private lives."
And even in the course of belatedly, begrudgingly confessing his seven months of lies, he lied some more. "My answers," he said of his January deposition, "were legally accurate."
That was the deposition in which he was asked, "At any time were you and Monica alone together in the Oval Office?" and he answered, "I don't recall." It was the deposition in which he was asked, "Did you have an extramarital sexual affair with Monica Lewinsky?" and he answered, "No." Those answers weren't legally accurate. They were legally perjury.
The toadies, the kneejerks, and the Clinton-right-or-wrongers instruct us to drop the subject now that the president has spoken. For them nothing has changed. Starr is still the villain. Clinton's troubles are still the work of a vast right-wing conspiracy. And it is still an outrage that the president is being hounded about what is, after all, just sex.
But it isn't just sex.
Bill Clinton lives in the White House, the most awe-inspiring mansion in America. He flies on Air Force One. He is guarded by the Secret Service. The Marine Band plays "Hail to the Chief" when he approaches. For six years, he has been addressed as "Mr. President." Audiences stand when he enters the room. Radio and TV networks turn over the microphone when he wants to speak. And when he wants to go on vacation, Martha's Vineyard millionaires turn over their homes.
He is lavished with honors, deferred to, fawned over. Not because he is a man who deserves honor and deference, but because he is the president. He has the job he sought all his life and all the glory and privileges that go with it.
Presidents, even mediocre ones, are indulged and flattered. They are forgiven much. But at the end of the day, they are expected to behave like presidents. They are expected not to befoul their office, not to act dishonorably, not to be jerks or buffoons or lechers. Not even in private. Not even in their sex lives.
Our long national nightmare is of Clinton's making. He abused his position shamefully, then jabbed his finger at us and denied everything. Now he has the gall to say, "Even presidents have private lives."
If he really believed that that was a defense, he would be a fool. But this president is no fool. He is a liar.
And a disgrace.
(Jeff Jacoby is a columnist for The Boston Globe).
-- ## --
Follow Jeff Jacoby on Twitter.
Discuss his columns on Facebook.
Want to read more? Sign up for "Arguable," Jeff Jacoby's free weekly email newsletter.