In a Special Message to Congress in 1822, President James Monroe analyzed at great length what was then a contentious issue: the power of Congress to authorize and fund a system of infrastructure projects, such as roads and canals, in order to knit the sprawling nation together. Monroe considered such a system a good idea. He warned, however, that Washington could not simply spend money for any purpose it chose. "It is . . . my opinion," he stressed, "that the power [to authorize infrastructure projects] should be confined to great national works only, since if it were unlimited it would be liable to abuse and might be productive of evil."
By today's standards, such principled restraints on congressional spending seem as antiquated as chamber pots and quill pens. Congress long ago arrogated to itself the power to spend money on virtually anything, which helps explain how the federal budget has climbed to more than $6 trillion, and why the government's debt stands at $31.8 trillion. In his wildest constitutional nightmares, Monroe could not have imagined how profligate the federal government would become, nor how fiercely members of Congress would maneuver to sneak narrow, private, and parochial pork-barrel projects into the nation's budget.
Lawmakers are hooked on earmarks — line items folded into appropriations bills that are not national priorities, but are designed solely to deliver expensive favors to influential interests and constituents back home. In the longstanding definition of Citizens Against Government Waste, a venerable budgetary watchdog, earmarks have several characteristics that distinguish them from legitimate spending provisions. Typically they are (1) requested by only one chamber of Congress, (2) not competitively awarded, (3) not included in the president's budget request, (4) not considered in congressional hearings, and (5) of benefit only to a local beneficiary.
It was in the 1980s and 1990s that Congress's addiction to earmarks first took hold. They surged under Republicans and Democrats alike, exploding from fewer than 1,000 in 1996 to nearly 14,000 by 2005.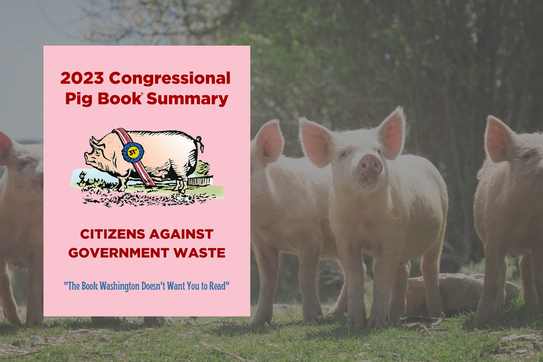 The latest compendium of pork-barrel earmarks totals more than $26 billion in unvetted, sneaked-in spending line items.
A rash of scandals linked to earmarking — including the bribery conviction of lobbyist Jack Abramoff, the revelations of massive corruption by Representatives Randy Cunningham of California and John Murtha of Pennsylvania, and the notoriously expensive "bridge to nowhere" in Alaska — triggered a national backlash against the practice. Republicans, correctly reading the room after winning a sizable House majority in the 2010 midterms, called for a strict ban on earmarking. In his State of the Union address the following year, President Obama followed suit. "The American people deserve to know that special interests aren't larding up legislation with pet projects," he said, promising to veto any bill containing pork-barrel outlays.
For a few years — wonder of wonders! — the restraints held. But by 2021, the porcine cascade was back. When President Biden signed a $1.5 trillion spending bill in March 2022, it contained more than $9 billion in earmarks. By December, when a $1.7 trillion spending measure reached his desk, it contained even more earmarks totaling $18.9 billion.
Now, in its latest "Congressional Pig Book" — an annual compilation of indefensible lard-coated line items in the budget — Citizens Against Government Waste tallies 7,396 earmarks that will cost taxpayers more than $26 billion. To put that in perspective, the bipartisan debt-ceiling deal just agreed to last week will trim domestic discretionary spending by $112 billion in the upcoming fiscal year. Thus nearly a quarter of that economizing is nullified by pork-barrel outlays that should never have been in the budget in the first place.
The abuse President Monroe warned against surges like a polluted river through the earmarks CAGW identifies. They include $4 million for a "sugarcane research unit" in Louisiana; $2.5 million for the Gulf Shellfish Institute in Florida; $4 million for an "oyster recovery" project in Maryland's Chesapeake Bay; $6 million for the Ulysses S. Grant Presidential Library in Starkville, Miss.; and nearly $1.3 million to fund the Apollo Civic Theatre in Martinsburg, W.Va., the Grand Theater in Steubenville, Ohio, and the Liberty Theater in Murphysboro, Ill.
Senators Ed Markey and Elizabeth Warren of Massachusetts finagled a $2.4 million earmark for "modernization and educational programming" at Boston's New England Aquarium. That may please friends of the aquarium, but why should taxpayers nationwide be forced to subsidize a Boston institution with net assets of $66.5 million? If the expenditure is meritorious, it could have gone through the normal, transparent appropriations procedure. Then again, why should it be billed to the federal government at all? As the authors of the "Pig Book" point out, the aquarium could have easily raised $2.4 million through higher admission fees, individual and corporate donations, or using a mere 3.6 percent of its substantial assets.
The banning of earmarks a decade ago was a genuine reform, one that briefly drained a tiny corner of the Washington swamp. Their return guarantees that the sea of red ink drowning the federal government will rise higher — not because earmarks themselves account for that much of the budget, but because they grease the skids to pass massive, unaffordable appropriations bills. Huge spending legislation is easier to enact when wavering members can be won over with line items custom-tailored for their state or district. That was why the late Senator Tom Coburn of Oklahoma used to call earmarks "the gateway drug to corruption and overspending."
Congress turned its back on earmarks once. It can do so again. But that would take a principled, charismatic political leader willing to lead the fight to make it happen. Does such an individual exist?
* * * * * * * * * * * * * * * * * * * * * * * * * * * * * * * * * * * * * * * * * * * * * * * * * * * *
Mass transit is (still) the wave of the past
My colleague Alan Wirzbicki is the Boston Globe's deputy editor for editorials. He is also the author of a weekly newsletter, "Are We There Yet?", in which he writes about all things transportation and explores how the region's systems for getting people around ought to evolve.
Alan noted last week that planners are far more adept at talking about all the transit changes to come than actually delivering them. To illustrate the point, he rolled the clock back to 1996 and reviewed the Globe's coverage of the big transit improvements that were said then to be in the works — a North South rail link, a commuter-rail extension to New Bedford, new cars for the Mattapan Trolley, and so on. Twenty-seven years later, virtually none of those big changes has come to pass.
So when policymakers go on and on about everything to be accomplished by 2050 — the date, 27 years hence, when Massachusetts and its infrastructure are supposed to be carbon-neutral — Alan recommends some healthy skepticism.
"I'm not suggesting any of the things transit advocates want now — which are, in some cases, the same as what they wanted in 1996 — are bad," he wrote. "It would be wonderful for the state to electrify the commuter rail, build the North South Rail Link, connect the Blue and Red lines, string gondolas over the city. . . . But as a matter of environmental policy, counting on any of that strikes me as so over-optimistic as to be irresponsible."
Unlike Alan (and the Globe's editorial board), I take a different view of mass transit, which I see as little more than a costly, niche mode of transportation that will never appeal to most commuters. Intrigued by Alan's newsletter, I went back to see what I might have written about transit 27 years ago and how it holds up today. I didn't find anything from 1996. But in a column the following year, I argued that instead of seeing mass transit as the linchpin of an enlightened future, we ought to regard it as a wave of the past. I began by explaining why I didn't commute to work on the MBTA, despite living near a subway station:
Unlike the subway, my car is ready whenever I am. Unlike the subway, my car goes only where I need to go and stops only where I want to stop. Unlike the subway, my car enables me to run an errand on the way to work, or stop at Starbucks for a cup of coffee. And unlike the subway, my car is private — no one comes along for the ride unless I extend an invitation.

Are my reasons petty? Is it selfish and irresponsible of me to be putting another automobile on the road every day, burning gasoline and taking up space, when I could so readily take the train instead?

The car-haters would surely say so, and Lord knows there are plenty of them, city planners and social critics and environmental activists forever hectoring us about the benefits of public transportation and the costs of automobile traffic — especially of commuters driving solo. Frequently they do more than hector. They lobby for increased government spending on mass transit. They demand steep hikes in the gasoline tax. They reserve highway lanes for buses and carpoolers. They mandate yearly auto inspections. They impose burdensome parking bans. In short, if it makes driving more difficult, they're for it.
Citing transportation expert Peter Samuel, I noted that federal and state governments had spent 10 times as much on mass transit, per person-mile, as they had on urban highways. Yet despite the increased availability of mass transit, US commuters continued to spurn it.
Between 1983 and 1993, mass transit capacity climbed 20 percent. In the same decade, the rate at which passengers use mass transit fell 16 percent.

Why? Because the vast majority of commuters would rather drive. Despite the hassles. Despite the costs. Despite the added responsibility. Despite the heavily subsidized (and therefore cheaply priced) mass transit alternative. In 1990, only 5.3 percent of commuters took public transportation to work — and that was down from 6.2 percent in 1980. The glaring truth, as Samuel notes, is that "cars on the roads provide America's mass transportation, while 'mass transit' caters to a small and diminishing minority."
Transit use is even lower today. As of 2019, according to the Census Bureau's American Community Survey, the share of workers commuting to work on public transportation was down to a flat 5 percent. (It plunged even lower with the outbreak of COVID-19, and remains well below its 2019 level.)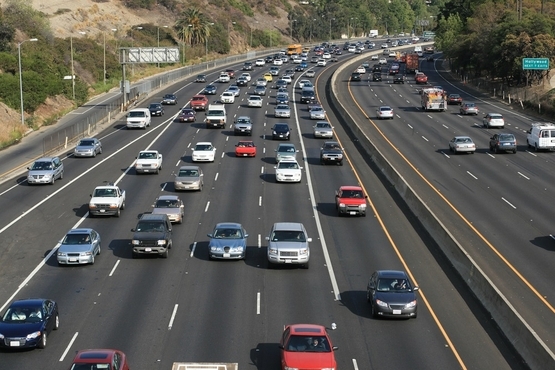 Cars on the road are America's true mass transportation.
Environmentalists, collectivists, and other evangelists for mass transit bewail what they like to call Americans' "love affair" with cars, implying that if only we weren't so irrationally attached to our personal vehicles, we would choose more sensible ways to get around. Actually, most Americans don't love their automobiles any more than they love their microwave ovens or washing machines. They buy them, use them, and appreciate them because they are efficient tools, saving time and effort and making daily life more convenient. And they do so, as I noted then, despite the financial penalty they are forced to pay for the privilege.
US motorists pay a heavy price for the comfort and autonomy of car-driving. In gasoline taxes, auto sales taxes, registration fees, and tolls, they cough up some $115 billion a year — far more than the $76 billion the government spends to build and maintain the roads they drive on.

By contrast, passengers who use public transportation pay only a fraction of what their ride really costs. In Boston . . . fares on the MBTA cover only 22 percent of costs. Which is to say, MBTA riders enjoy a 78 percent subsidy — most of it taken from the wallets of automobile owners.
Those numbers have doubtless shifted a bit since the 1990s, but the principle endures. The Cato Institute's Randal O'Toole, citing data from the federal Bureau of Transportation Statistics, has pointed out that — taking into account both user costs and subsidies — public transportation costs nearly four times as much per passenger-mile as driving.
Americans embraced car ownership because, on the whole, it made their lives better, freer, and wealthier than they would have been otherwise. Cars brought knowledge, natural beauty, and new experiences within reach of innumerable men and women. They ended the desperate isolation and loneliness of rural life, gave rise to the consumer paradise of modern retailing, and made it possible for millions of working people to trade crowded tenements for a home in the suburbs.
In a handful of cities, including Boston, mass transit is a feasible way for many people to get around, if they so wish. But most don't so wish. In the Boston metro area, just 13.4 percent of workers use public transportation to get to their jobs. Apart from the six "legacy-transit" cities (Boston, New York, Chicago, Philadelphia, Washington, and San Francisco), only 5 percent of daily commuting in America is by public transportation.
The reality, just like 27 years ago, is that single-driver travel remains indispensable. The vast majority of Americans prefer to drive. Public policy should be aimed at facilitating that preference, not thwarting it.
There is a reason why so many American songs celebrate the glory of owning or driving or fooling around in a car. From Aretha Franklin riding on the "Freeway of Love" to Prince in his "Little Red Corvette," from the Beach Boys' "Little Deuce Coupe" (man, I know she could fly) to Taylor Swift drivin' in a "Getaway Car," there are scores and scores of tunes grounded in the message that cars are good and driving them is better. Shania Twain may be Canadian, but her 2002 song "In My Car" perfectly captures that quintessential American spirit:
In my car, I'll be the driver
In my car, I'm in control
In my car, I come alive
Mass transit was the wave of the past when I wrote about it in the 1990s. It remains the wave of the past today. However much the anti-car zealots rant and rail, one thing hasn't changed. Most of us would rather get behind the wheel of a car than cram ourselves onto the Red Line.
* * * * * * * * * * * * * * * * * * * * * * * * * * * * * * * * * * * * * * * * * * * * * * * * * * * *
Happy Garbage Day!
Memorial Day is over. Juneteenth and the Fourth of July are ahead. But like all national and traditional holidays, they come only once a year. Why not a holiday that comes every week?
The quirky Boston blogger Isha Yiras Hashem proposes "the most non-controversial, non-denominational, non-stressful holiday ever: Garbage Day." Its purpose: to express thanks for our good fortune in being "producers and not users of garbage."
She's writing with tongue-in-cheek, of course. But she makes a valuable point: We are fortunate to be among those who generate trash and not those reduced to surviving on trash generated by others.
One of mankind's oldest means of employment is picking through rubbish, looking for things of value in people's discards. Winslow Homer portrayed such scavengers in Scene on the Back Bay Lands, Boston, an 1859 engraving of trash-pickers sorting through the landfill that eventually became one of Boston's most elegant neighborhoods. Like Cairo's modern-day "Zabbaleen," who collect much of that city's waste and support themselves by recycling what they find, Homer's Back Bay foragers were poor people who sifted through rubbish, searching for anything of value that they might be able to sell, swap, or use.
Putting out the trash each week doesn't strike most of us as a reason to celebrate. But maybe it should. Characteristically, Isha detects a deeper significance in the mundane chore of dragging the rubbish bin to the curb: "Garbage Day is a reminder that all of humanity is equal and must work together," she writes. "No matter who you are, or what you believe, you need a Garbage Day to dispose of the trash in your life."
* * * * * * * * * * * * * * * * * * * * * * * * * * * * * * * * * * * * * * * * * * * * * * * * * * * *
The Last Line
"The dawn was beginning to break when Mowgli went down the hillside alone, to meet those mysterious things that are called men." — Rudyard Kipling, "Mowgli's Brothers" from The Jungle Book (1894)
* * * * * * * * * * * * * * * * * * * * * * * * * * * * * * * * * * * * * * * * * * * * * * * * * * * *
(Jeff Jacoby is a columnist for The Boston Globe).
-- ## --
Follow Jeff Jacoby on Twitter.
Discuss Jeff Jacoby's columns on Facebook.
Want to read more Jeff Jacoby? Sign up for "Arguable," his free weekly email newsletter.