THE AD, a full-page layout from the Population Institute, has appeared in The New York Times, The Washington Post, and The New Republic. "We are approaching a world of six billion people," it reads. "HOW DENSE CAN WE GET?" A few lines of text note that 3 billion young people will enter their reproductive years in the next generation and call for "voluntary and responsible solutions" to the "issue of rapid population growth." There is a pitch for donations, and a promise to "take this issue to the American people" by advertising in "600 major television markets."
But the real focus of the ad is — celebrities. There are photographs of Willard Scott, Morgan Fairchild, and Charlton Heston. There is a list of "other celebrities who have donated their time and effort" to the fight against overpopulation: "Richie Havens, Judd Hirsch, Rita Moreno, Ben Vereen . . ." There is a reference to the Population Institute's website, where even more celebrities await. US Senator John Kerry is there. Beatrice Arthur, too.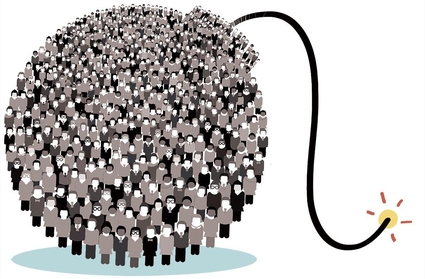 If the "population bomb" fearmongers are right, the history of this century should have been one of steadily worsening famine, disease, and penury. Instead, nearly every measure of human well-being has improved.
A movement that trots out Willard Scott and Ben Vereen to prove its seriousness is, not to put too fine a point on it, past mockery. Not that it matters: The population-control people are never embarrassed. Least of all about being wrong. For decades they have been predicting apocalypse; for decades their predictions have failed. Failed utterly. Yet the alarmist howling goes on.
Thirty years ago, Paul Ehrlich's bestseller "The Population Bomb" declared: "In the 1970s, the world will undergo famines — hundreds of millions of people are going to starve to death in spite of any crash programs embarked upon now. At this late date, nothing can prevent a substantial increase in the world death rate."
When "the Great Die-Off," as he called it, didn't occur in the 1970s, Ehrlich said it would happen in the '80s. The he rescheduled it for the '90s. "One thing seems safe to predict," he wrote in 1990, "starvation and epidemic disease will raise the death rates over most of the planet" and mankind will suffer the "deaths of many hundreds of millions of people in famines."
Ehrlich is only the best-known of the catastrophists. The Population Institute, with its Ben Vereen ads, is only the silliest. The belief that the world is overpopulated and that overpopulation means disaster is as old as Thomas Malthus and as current as Al Gore ("Malthus was right. . . . No goal is more crucial to healing the global environment than stabilizing human population.")
But the world isn't overpopulated. And the population explosion is over.
There are about 5.9 billion people today, nearly quadruple the number at the start of the 20th century. Anyone old enough to remember FDR's fireside chats has lived through the most phenomenal increase in population since human history began. If the fearmongers are right, the history of this century should have been one of steadily worsening famine, disease, and penury. Every measure of human well-being — from infant mortality to per-capita wealth to malnutrition — should have declined. We should be crawling into the new millennium on our knees, hungry, weak, sick, destitute, choking in waste and misery.
But nearly everything is better. Infant mortality is way down. Life expectancy is way up. Per capita wealth has skyrocketed. Food supplies have soared. Energy is more abundant. Pollution has plummeted. Dread diseases have been conquered. Once-unimaginable technologies have become commonplace.
There is still poverty and hunger. In many places there has been horrific manmade suffering. But taken as a whole, mankind has never prospered as it prospers now. Human beings eat more, produce more, own more, travel more, know more, and can choose more than they ever could before the galloping population growth of the 20th century.
Nothing, certainly not facts, stops the modern Malthusians from shrieking that there are too many people and that calamity is looming. Yet the really interesting development in population growth is the astonishing drop in human births — the "baby bust" — now underway worldwide.
The average number of children per woman (the fertility rate) required to keep a population level is 2.1. In the world's advanced countries, the fertility rate in the 1950s was roughly 2.8. Today it's down to 1.6. In Europe, to 1.5. In Russia and Japan, 1.4. In Italy, 1.2. In the supposedly teeming Third World, overall fertility rates have dropped from 6.0 in the 1960s to 3.0 today — and are still falling.
Virtually every nation on earth has experienced a decreasing birth rate. World population growth has slowed to just 1.7 percent. "We're due for at least an additional 2 billion people by 2050," writes Ben Wattenberg, an expert on demographics. "That's a lot. But then global population will likely start shrinking. Repeat: shrinking."
In short, population alarmists, it's over. Within the lifetime of most of us, humankind will stop growing. The snake-oil salesmen who for so long have peddled the nonsense that babies are bad news will be out of business. Not soon enough to spare us Willard Scott's wisdom on the subject, but soon. It won't be long before the misanthropic preachings of Paul Ehrlich and the Population Institute are finally shelved where they belong: with the gibberish of the flat-earthers and the bunkum of the alchemists.
(Jeff Jacoby is a columnist for The Boston Globe).
-- ## --
Follow Jeff Jacoby on Twitter.
Discuss his columns on Facebook.
Want to read more? Sign up for "Arguable," Jeff Jacoby's free weekly email newsletter