In an interview this month marking the 10th anniversary of his election, Pope Francis suggested he might be open to a change in the Roman Catholic Church's longstanding rule of priestly celibacy.
"There is no contradiction for a priest to marry," the pope told the Spanish-language newspaper Infobae. "Celibacy in the Western Church is a temporary prescription." Unlike ordination, which is eternal and intrinsic to the priesthood, he said, "celibacy is a discipline."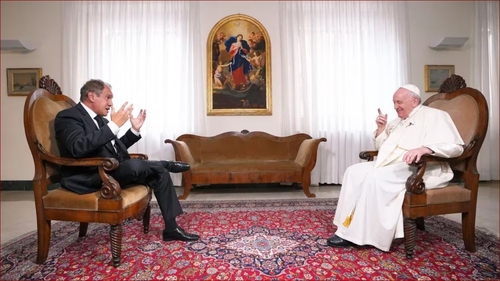 In an interview with Argentine journalist Daniel Hadad, Pope Francis agreed that the requirement of priestly celibacy "could be reviewed."
Asked by the Argentine journalist Daniel Hadad whether celibacy "could be reviewed," Pope Francis didn't hesitate. "Yes, yes," he replied, pointing out that among Eastern-rite Catholic churches, it is perfectly acceptable for married men to enter the priesthood. "There they make a choice. Before ordination there is the choice to marry or to be celibate."
In the past, the pope had always insisted that marriage for Roman Catholic priests was not open for debate. "Optional celibacy is not a solution," Francis said in 2017, ruling out a suggestion to allow ordained men to get married. As recently as 2020 he rejected a proposal that would allow married men in the Amazon region to be ordained in order to alleviate a shortage of priests.
Bit by bit, however, the door seems to be opening.
In 1980, Pope John Paul II made it possible for married Episcopal priests to continue their ministry after converting to Catholicism. In 2014, Francis quietly revoked a 114-year-old ban on married Eastern Catholic priests serving outside their rite's home country, making it possible for Melkite, Coptic, Ukrainian, and other Eastern-rite congregations in the United States to be served by married pastors, according to the Rev. Paul Sullins, who is both married and the priest of St. Mark the Evangelist Church in Hyattsville, Md. The Catholic Church comprises numerous non-Latin rites, or independent ecclesiastical traditions, and in all of them priests are permitted to be married. It is only in the Latin rite, of which Roman Catholicism is the largest and best known, that priestly celibacy is required. And even then, it is only since the 11th century that Roman Catholic priests have been barred from marriage. For the church's first 1,000 years, Catholic priests were married.
Indeed, the New Testament appears to take it for granted that spiritual leaders within the church will have spouses. In his First Epistle to Timothy, for example, Paul characterizes the ideal bishop as "above reproach, the husband of one wife, temperate, self-controlled, respectable, hospitable, skillful in teaching, not overindulging in wine, not a bully but gentle ... free from the love of money [and capable of] keeping his children under control with all dignity." In the church's first millennium, many bishops — and as many as 39 popes — were married.
As an Orthodox Jew, I am not about to fault the Catholic Church for its atypical teachings on marriage and spiritual leadership; my own religion has many requirements and prohibitions that are decidedly out of step with other faiths or with society at large. But I can't help feeling that there is something sadly poignant about the fact that Roman Catholics who experience a calling to serve God and the church as priests must renounce any hope of marrying and raising children.
As I read about the pope's interview, I recalled the story of the Rev. Alberto Cutié, an internationally known Catholic priest whose vocation came crashing down when a magazine in 2009 published photos showing him on a beach, kissing and embracing a swimsuit-clad woman. Cutié, the pastor of St. Francis de Sales parish in Miami, had built a vast following through his immensely popular Spanish-language radio and television ministry and widely distributed advice column. He had been nicknamed "Father Oprah" in tribute to his skill as a broadcaster and his compassion for those wrestling with problems of love, sex, and relationships.
Such struggles, it turned out, were something he knew from personal experience. In the uproar that followed the magazine expose, Cutié admitted that he and the woman on the beach were in love and that he had been trying for almost a year to resolve his feelings for her with his commitment to the church. The Archdiocese of Miami had little choice but to suspend him from his parish, and Cutié was faced with a wrenching choice — to leave the priestly vocation that meant so much to him or to break with the woman he yearned to share his life with.
"I would like to have a family and at the same time serve God," he said at the time. In most religions he would have been able to do both, but as a Roman Catholic that wasn't an option.
Catholics have long been divided on the issue. According to a 2018 survey by the Pew Research Center, 62 percent of US Catholics support allowing priests to be married. In 2019, a similar Pew survey of Catholics in Latin America found large majorities in several countries, including Brazil, Chile, and the pope's native Argentina, in favor of lifting the celibacy rule for priests. Calls to jettison the rule have by no means come only from liberal Catholics. William F. Buckley Jr., a devout Roman Catholic and an equally stalwart conservative, once described the requirement of priestly celibacy as "in most cases inordinate and unrealistic." Cardinal Edward Egan, the former archbishop of New York, said it was "perfectly legitimate" to question the wisdom of not allowing priests to marry. It was "not a closed issue," he told a radio interviewer in 2009, and "I am not sure it wouldn't be a good idea to decide on the basis of geography and culture not to make an across-the-board determination."
In the end, Cutié decided to leave Catholicism. He converted to Episcopalianism and is today the rector of St. Benedict's Episcopal Church in Plantation, Fla.
"There are many priests who do possess the gift of celibacy — it is their 'truth,' so to speak — and their humanity, warmth, and pastoral effectiveness give abundant evidence of their authentic celibate lives," wrote the late Rev. Donald Cozzens, who was a Catholic priest and a professor of theology at John Carroll University in Cleveland. "But there remain other priests who believe deep down they are called to the priesthood but not to celibacy. ... The priesthood may be their 'truth,' but mandated celibacy wraps them in a cloak of loneliness and struggle."
In the religious tradition I know best, spiritual leaders are not only permitted but expected to be married. Every rabbi of every synagogue I have ever attended has been married with children, and their families have been active in the community. In ancient Jerusalem, the Talmud teaches, it was vital that the high priest not be unmarried on Yom Kippur, the ultra-solemn Day of Atonement, when he led the people in repentance for sins. That the service be led by a married man was so essential that an "understudy" was designated who would be available to marry the high priest in case his wife should die just before Yom Kippur.
As Pope Francis makes clear, priestly celibacy is not unshakable Catholic dogma but a "discipline" that can be "reviewed." I know there are many priests whose vocation is everything to them and for whom celibacy has never been a bar to happiness. But how many others, I wonder, are like Cutié, a lover of God who was powerfully called to the priesthood, yet also felt drawn to the fulfillment of family life? In the United States, the number of Catholic priests has dwindled since 1970 from 59,000 to fewer than 36,000. Surely there are those who would gladly enter the priesthood, if only it didn't mean forswearing the intimacy of a spouse, the bond of physical love, and the experience of raising children.
(Jeff Jacoby is a columnist for The Boston Globe).
-- ## --
Follow Jeff Jacoby on Twitter.
This column is excerpted from the current issue of Arguable, Jeff Jacoby's free weekly newsletter. To subscribe to Arguable, visit bit.ly/ArguableNewsletter or simply click on the image below.