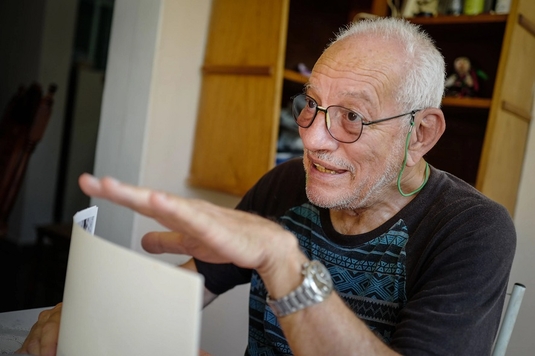 Cuban dissident Vladimiro Roca Antúnez
Fidel Castro loathes anyone who champions freedom and democracy, but for Vladimiro Roca, who was freed this week after nearly five years in prison, he harbors a particular hatred.
Roca is a scion of Cuba's Communist elite. His father was Blas Roca, a founding father of the Cuban Communist Party and a member of Castro's inner circle until his death in 1987. Vladimiro — he was named after Lenin — was raised in privilege, trained as a fighter pilot in the Cuban Air Force, then entered the University of Havana to study economics. If anyone had cause to embrace the Communist "revolution," this Cuban princeling did. But the more Roca saw of Castro's corruption and despotism, the more repelled he was by the system his father had helped create.
In 1991 Roca founded the Social Democratic Party — a dangerous act of defiance in a country where only the Communist Party is legal. In 1997, he and three other Cuban dissidents wrote "The Homeland Belongs to Us All," a manifesto calling for democratic elections, respect for human rights, and greater economic freedom. For that insult to Cuba's dictatorship, the four were arrested and eventually convicted of "inciting sedition." Roca's coauthors were sentenced to four years in prison and were released in May 2000 after serving half their terms.
But Castro did not let Roca off so easily. The ex-MIG pilot drew a sentence of five years and spent more than two of them in solitary confinement. When he was released on Sunday, he had served all but 10 weeks of his term.
This "early release" was widely seen as a goodwill gesture to former President Jimmy Carter, who is scheduled to visit Cuba next week. This is a favorite conceit of dictators: the notion that releasing an unjustly convicted prisoner or two makes a nice gift with which with which to welcome a visiting dignitary — like a fruit basket, only cheaper. Carter should make it clear that Roca's liberty is not a "gift" of the government but his inalienable human right and insist that every political prisoner in Castro's jails be released unconditionally.
It can be difficult for Americans, who take their civil liberties for granted, to grasp just how abominably the Castro regime treats courageous and honest Cubans. Roca is free, but hundreds of others remain behind bars because they dared speak the truth about Castro's ugly system. Here is the story of one of them.
In 1989, Francisco Chaviano Gonzalez, like countless others over the years, tried to flee Cuba on a raft. The right to leave is fundamental in international law, but in Cuba it is illegal. Chaviano was caught and sent to prison, where he formed the Cuban Rafters Council to provide solidarity to others in the same position. After his release, he began trying to document the many thousands of men, women, and children who had died trying to cross the Florida Straits — all of whom were treated as nonpersons by the Cuban government.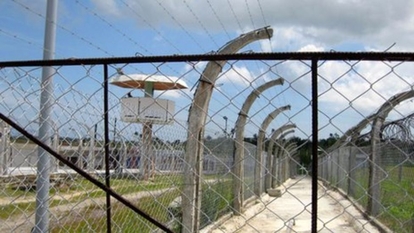 Nowhere in the hemisphere is the fate of freedom more dire than in Cuba, where decent men are punished for their decency. Above: the notorious Combinado del Este maximum-security prison, where political dissidents are incarcerated.
The more Chaviano learned about the circumstances that led so many Cubans to flee, the more he spoke out against government abuse and persecution. He renamed his organization the National Council for Civil Rights and repeatedly condemned Cuba's human rights violations. In response, he and his family were subjected to a campaign of harassment and assault. Their home was attacked. Threatening messages wrapped around rocks were thrown through the windows. Vulgar graffiti were painted on the outside wall.
Chaviano refused to be intimidated. Government goons broke into his home and beat him up. Still he persisted in speaking out. Early in the morning of May 7, 1994, a man he didn't know came to his door, delivered a sheaf of papers, and left. Moments later, the security police raided the house. They made a great show of finding the planted document, which they seized as "evidence." Chaviano was arrested and held for nearly a year before learning that he would be charged with "revealing state secrets" and "illicit enrichment."
His trial was a farce. It was closed to the public, but the courtroom was packed with state security agents. Chaviano was not allowed to see the evidence against him or to call witnesses in his own defense. His conviction was a foregone conclusion; his sentence was 15 years.
That was eight years ago. Today he is locked in the maximum-security Combinado del Este prison; his wife is permitted to visit him once every two months. His health has deteriorated — he suffers from an ulcer and respiratory problems - but his ideals remain intact. "His spirit is strong," his wife told me recently. "He gives me strength."
In his 1977 inaugural address, President Carter declared, "Because we are free, we can never be indifferent to the fate of freedom elsewhere." Nowhere in the hemisphere is the fate of freedom more dire than in Cuba, where decent men are punished for their decency. Castro would like the world to forget about the Chavianos in his jails. When he is in Cuba next week, Carter must make sure they are remembered.
(Jeff Jacoby is a columnist for The Boston Globe).
-- ## --
Follow Jeff Jacoby on Twitter.
Discuss his columns on Facebook.
Want to read more? Sign up for "Arguable," Jeff Jacoby's free weekly email newsletter.