MLK vs. the antisemites
There are so many reasons to wish that the life of Martin Luther King Jr. had not been cut short so cruelly and so early, especially in light of how our nation's public discourse has deteriorated in the years since his assassination.
King, one of the great apostles of making race as irrelevant as possible in American life, might have provided powerful moral leadership against the ideological drive on the contemporary left to make racial identity all-important. The civil rights hero who famously dreamed of an America where no one would be judged by the color of their skin would never have made common cause with those, like Ibram X. Kendi, who insist today that "there is no such thing as a nonracist or race-neutral policy."
King, the 1964 Nobel laureate for peace, spoke feelingly of how this nation's "great wells of democracy ... were dug deep by the founding fathers." He believed profoundly in the essential goodness of the American experiment. Would a man who often emphasized that the civil rights movement was "standing up for the best in the American dream," ever have joined with those who revile the United States as irredeemably hateful and oppressive?
For those of us who are members of what Supreme Court Justice Felix Frankfurter called "the most vilified and persecuted minority in history," there is an additional reason to lament the tragedy of King's assassination. American Jews find themselves now in an era of surging antisemitism — in the words of FBI Director Christopher Wray, the Jewish community is "getting hit from all sides." Had King not been cut down at age 39, he would have been a redoubtable ally against Jew-hatred — above all, perhaps, in the Black community, where bigotry against Jews has reached disproportionately high levels.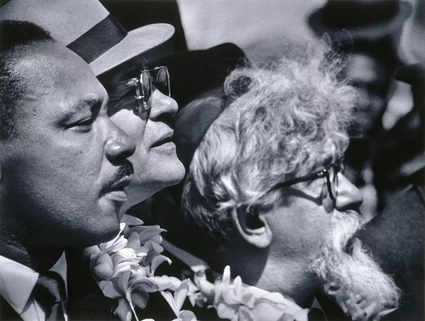 Martin Luther King Jr. — seen here with Ralph Bunche and Rabbi Abraham Heschel during the 1965 Selma to Montgomery March, was a passionate foe of antisemitism.
More than 30 years ago, Henry Louis Gates Jr., who led the Afro-American Studies Department at Harvard, was dismayed by data showing "that Blacks are twice as likely as whites to hold antisemitic views." Notorious bigots like Louis Farrakhan and Kanye West command large audiences for their anti-Jewish hatred. Black perpetrators have been responsible for violent hate crimes against Jews in recent years, including a bloodbath at a Jersey City kosher market.
During his too-short life, King distinguished himself as an important ally in the fight against antisemitism. Toward the end of his life, he worked to strengthen ties between Black and Jewish Americans. He was particularly intent on rebutting the deadly smear that Zionism is racism. King was an admirer and defender of the modern state of Israel, and he declared forthrightly that to hate the world's only Jewish state was to hate Jews.
In a 1967 interview King described Israel as "one of the great outposts of democracy in the world." It was a message he repeated just 10 days before his assassination. On March 26, 1968, during an appearance at the national convention of the Rabbinical Assembly of Conservative Judaism, King was asked whether Black American intellectuals should support Israel in its conflict with the Arab world. Nine months after the Six-Day War, when some on what was being called the New Left were turning against Israel, King reiterated his ardent support for the embattled Jewish homeland.
"Peace for Israel means security and we must stand with all our might to protect its right to exist, its territorial integrity," he said. "I see Israel, and never mind saying it, as one of the great outposts of democracy in the world and a marvelous . . . oasis of brotherhood and democracy."
King had no tolerance for those who pretend that anti-Zionism amounts to anything but antisemitism with a different label. He said so bluntly during a dinner in Cambridge, Mass., in October 1967. As the renowned political scientist Seymour Martin Lipset recounted, when a Black college student denounced "the Zionists," King's reaction was sharp.
"Don't talk like that!" he snapped. "When people criticize Zionists, they mean Jews. You're talking antisemitism!"
In a letter to Adolph Held, the president of the Jewish Labor Committee, MLK linked Black integration with his defense of Jewish statehood. His views were "crystal clear," he wrote. "I could not [support] any resolution calling for Black separatism or calling for a condemnation of Israel."
America's foremost civil rights leader wasn't just a great exponent of the fundamental principle that all persons are created equal and that racial distinctions have no legitimate place in American life or law. He was also a ardent believer in America's potential for decency and goodness, a devoted exponent of nonviolence, and a staunch foe of antisemitism. As we pause next week for the national holiday marking his life, it is painful to reflect on how much was lost when he was killed.
* * * * * * * * * * * * * * * * * * * * * * * * * * * * * * * * * * * * * * * * * * * * * * * * * * * *
The TV pioneer who inspired Barbara Walters
Barbara Walters died on Dec. 30 at the age of 93, and was hailed as a barrier-smashing TV journalist who blazed a trail for other women to follow. She was the first woman to co-host the "Today" show, the first to co-anchor ABC's evening news show, and the first TV news personality of either sex to get a million-dollar salary. Walters remained an on-air TV personality until she was well into her 80s. She was especially renowned for the interviews she landed with high-profile newsmakers from Fidel Castro to Monica Lewinsky — and including every US president from Richard Nixon to Barack Obama. In an obituary, The Washington Post characterized her as "one of television's premier interrogators of the newsworthy."
But Walters herself followed in the footsteps of an even more remarkable TV pioneer — the legendary Cleveland journalist and commentator Dorothy Fuldheim, whom Walters called "the first woman to be taken seriously doing the news." Because her extraordinary TV career was spent in a local media market, Fuldheim wasn't well-known nationally. But to anyone who lived in Northeast Ohio between the late 1940s and the early 1980s, she was a towering media presence.
Cleveland's Dorothy Fuldheim, who became TV's first female news anchor and commentator in 1947, attracted an enormous following — and held it for decades.
Her home station — the only one she ever worked for — was WEWS. When it went on the air in 1947, it was the first TV station between Chicago and New York. Fuldheim, a former stage actress who had built a second career as a radio commentator and lecturer, was hired to be the station's first nightly newscaster and news analyst. When her TV life began, she was 54 years old and brought to the job a resume that already included a striking litany of scoops and high-level interviews.
Fuldheim had interviewed Adolf Hitler in Munich in 1932, just months before he became chancellor. "I spoke German and he didn't know I was Jewish," she would later recount. "I just walked up to him and began asking questions." In 1934, she interviewed Englebert Dollfuss, the Austrian dictator, who assured her that he was in no danger. He was assassinated by Nazi agents two days later.
Fuldheim made news repeatedly after moving into television. In one early incident, she invited the two sides in a public transit labor dispute to bring their differences onto her show. With the cameras rolling, she presided over what amounted to a collective bargaining session. Those negotiations, broadcast live, ended up averting a strike.
The eminent figures who agreed to appear on the air with Fuldheim "read like a Who's Who of the 20th century," wrote the historian Cary O'Dell in a 1997 book about TV's women pioneers.
Besides interviewing every president from FDR to Ronald Reagan, she also sat down for talks with Pope Pius XII, Albert Einstein, Dr. Benjamin Spock, Edward R. Murrow, Dr. Martin Luther King, Madam Chiang Kai-shek, Charles Laughton, Cecil B. DeMille, Helen Hayes, Margaret Chase Smith, Jimmy Hoffa, Jane Fonda, Senator Hubert Hubert Humphrey, and others. Hers was one of only two American interviews ever granted by the Duke of Windsor.
Such a list of "gets" would have been remarkable for a famous network news anchor with a national audience — someone like Walters. But Fuldheim landed them all, and many others besides, from her perch in local TV.
On one memorable occasion, she interviewed Yippie leader Jerry Rubin and was so outraged by his crudeness that she abruptly stopped the interview and threw him out of the studio. Viewers reacted with an avalanche of support, sending her candy, flowers, and wine. But their admiration turned to blistering condemnation a few weeks later, when she denounced the Ohio National Guard members who killed four students at Kent State University near Akron. "Since when do we shoot our own children?" Fuldheim raged during an on-air commentary in which she was unable to hold back tears. The backlash was furious and Fuldheim offered to resign. WEWS wouldn't hear of it.
Though she stood just 5'3", Fuldheim cast a giant shadow in the world of TV news. By the end of her career — she retired in 1984, at age 91 — she had spent more time in front of the TV camera than almost anyone in television history, locally or nationally. Her death five years later was noted by, among others, Barbara Walters, who sang her praises in a broadcast. "She defied all the prejudice about women doing the news . . . and she defied all the prejudices about aging," Walters marveled. "She did it not only with intelligence but with guts and with humor."
Television has elevated more than a few remarkable personalities, but Dorothy Fuldheim — the First Lady of Television News — was in a category of her own. She was "a thinker and a dedicated journalist in tune with the times," wrote O'Dell. "Yet somehow she was also ahead of her time, broadcasting out to a single city and embracing the world."
* * * * * * * * * * * * * * * * * * * * * * * * * * * * * * * * * * * * * * * * * * * * * * * * * * * *
What I Wrote Then
25 years ago on the op-ed page
From "The loss of presidential dignity," Jan. 13, 1998:
The first president worried at length about how "to maintain the dignity of office." The current president goes on MTV to talk about his underwear. Washington didn't campaign openly for office — and for a century or so, neither did his successors. Clinton took his campaign to "60 Minutes," where he discussed his marital infidelities, and to the "Arsenio" show, where he donned sunglasses and blew a saxophone.

Whatever happened to "dignity of office?"
* * * * * * * * * * * * * * * * * * * * * * * * * * * * * * * * * * * * * * * * * * * * * * * * * * * *
The Last Line
"When we allow freedom [to] ring, when we let it ring from every village and every hamlet, from every state and every city, we will be able to speed up that day when all of God's children, black men and white men, Jews and Gentiles, Protestants and Catholics, will be able to join hands and sing in the words of the old Negro spiritual: 'Free at last! Free at last! Thank God Almighty, we are free at last!'" — Rev. Martin Luther King Jr., Address Delivered at the March on Washington for Jobs and Freedom (August 28, 1963)
* * * * * * * * * * * * * * * * * * * * * * * * * * * * * * * * * * * * * * * * * * * * * * * * * * * *
(Jeff Jacoby is a columnist for The Boston Globe).
-- ## --
Follow Jeff Jacoby on Twitter.
Discuss Jeff Jacoby's columns on Facebook.
Want to read more Jeff Jacoby? Sign up for "Arguable," his free weekly email newsletter.