WERE YOU starting to forget why you despise state government? Perhaps House Speaker Thomas Finneran can refresh your memory.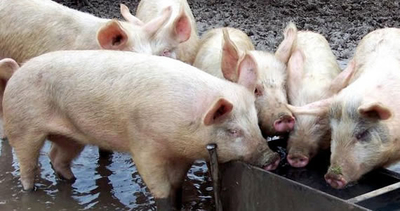 Last week, the Massachusetts Legislature passed the most bloated budget in the state's 368-year history, one that will devour more than $18.3 billion of taxpayer money. To celebrate, Finneran decided to reward a few of his friends with funds from the state treasury. There was no roll call, no debate, no disclosure. Just a swift parliamentary tap dance and — presto! — a group of House members suddenly found themselves with raises of up to $15,000 a year.
"This is just what upsets people," fumed Representative Christopher Hodgkins — legislators "acting like pigs at the trough." But it didn't upset the 10 Beacon Hill piggies whose trough now runneth over:
Angelo Scaccia of Hyde Park.
Kevin Fitzgerald of Jamaica Plain.
Robert Correia of Fall River.
Thomas Petrolati of Ludlow.
Maryanne Lewis of Dedham. Patricia Walrath of Stow.
Frank Hynes of Marshfield.
Alvin Thompson of Cambridge.
Ronald Gauch of Shrewsbury.
Patrick Guerriero of Melrose.
Of the 10, only Gauch and Guerriero are Republicans. They got raises of just $7,500, half what most of the Democrats got. But it was enough to ensure their silence. In exchange for a few pieces of silver, the Republicans agreed to say nothing as Finneran shoved the pay hikes through. It takes so little to buy some people off.
Finneran did more than just hand out raises to his cronies. He made them retroactive to Jan. 1. He attached them to a repeal-proof appropriation bill. He slipped them in during an "informal" House session, when no controversial matters are supposed to be taken up.
And then he had the gall to claim that he acted for the sake of good government. "Judge me," he said, "on how well this place performs."
So this is the speaker who was going to set a higher ethical tone than his predecessor, the felonious Charlie Flaherty? This is the speaker who was going to break the Legislature's habit of treating taxpayers with disdain? Some of us used to think so. We should have remembered the First Rule of Legislative Integrity: There is none.
Granted, the new state budget can afford the Finneran pay hikes. The new state budget can afford everything. It can afford to jack up the University of Massachusetts subsidy by nearly $30 million. It can afford $40 million to supply welfare to noncitizens. It can afford to raise by another $220 million the money being dumped down the rathole of "education reform." It can afford to fully fund every state agency, bureau, commission, and department, including all the ones Governor Weld has been saying for years he's going to downsize. It can afford to spend almost $1 billion more than last year's budget, outstripping inflation by 2 to 1.
The only thing the new budget apparently can't afford is a tax cut.
Each year, the amount of money confiscated in state taxes from Bay Staters who work and invest leaps upward. When Weld, the no-new-taxes governor, took office in 1991, the state's tax revenues totaled $8.99 billion. In the fiscal year just ended, the tax take zoomed past $12.5 billion. So much money is being sucked out of taxpayers' wallets and paychecks that Beacon Hill can't spend it fast enough. Even at $18.3 billion — even with the so-called "rainy day fund" filled to overflowing — the fiscal 1998 budget shows a surplus of at least $400 million. And still the Legislature balks at giving any back.
Juicy raises for Finneran's hacks? Certainly. A 55 percent pay raise for the entire Legislature just two years ago? Absolutely. A State House scam to increase Charlie Flaherty's state pension after he was convicted of tax evasion? By all means. Paid holidays for the sole benefit of legislators and government employees? Sure.
A little tax relief for the rest of us? Forget about it.
Media reports to the contrary notwithstanding, there are no tax cuts in the 1998 budget. There is a $600 increase in the deduction for dependent children, but that's merely an adjustment for inflation, the first in 11 years. There is a $6,000 credit for complying with Title V septic system rules, but that isn't a tax cut, either — it's a subsidy for homeowners gored by a Draconian state mandate. There is also a newly created state version of the federal earned income tax credit. The way it works is, if you don't make enough to pay income tax, the government sends you a check. That's not tax relief, it's welfare.
In short, the new budget contains everything — even a gigantic surplus — except a decent tax cut for Massachusetts workers.
And so the Legislature will continue seizing more of your wealth than it knows what to do with. It will continue taxing your paycheck at 5.95 percent, eight years after the rate was "temporarily" raised from 5 percent. It will continue taking 12 percent of your interest and dividends, the heaviest income tax rate in the nation. And it will continue to find excuse after excuse, year after year, not to let you keep more of your own earnings.
It's not that the Legislature doesn't want to cut taxes. It's just that — as Speaker Finneran can tell you — Beacon Hill piggies come first.
(Jeff Jacoby is a columnist for The Boston Globe).
-- ## --
Follow Jeff Jacoby on Twitter.
Discuss Jeff Jacoby's columns on Facebook.
Want to read more Jeff Jacoby? Sign up for "Arguable," his free weekly email newsletter.