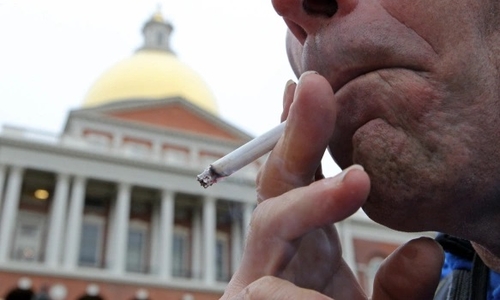 The Massachusetts Legislature refuses to ban smoking in the State House, the 200-year-old architectural masterpiece where it makes its home. It will not do so despite the damage smoke causes to the building's priceless historic details, its irreplaceable sculptures and paintings, its stained glass, its marble floors, its intricate woodwork, and its many thousands of annual visitors. It will not do so because many legislators like to smoke.
It will, however, ban or curtail smoking on buses and trains, in food courts, and in private workplaces across the state. It will mandate warning labels on cigars. It will be make even more Draconian the penalties for selling tobacco to teenagers. It will compel cigarette manufacturers to disclose the ingredients that go into their product, regardless of the threat to trade secrets. And it will approve no-smoking policies in the two office towers that house much of the state's bureaucracy. (All these measures have either been enacted or are in the legislative pipeline.)
For Bay State smokers, the writing is on the wall. Soon they'll need to get elected to office just to have a place to light up.
Well, the hypocrisy of politicians is an old story. The fanaticism of antismoking zealots is a newer one. Maybe the lawmakers figure that if they want the tobacco prohibitionists to let them keep smoking inside the State House, they have to help them abuse every smoker outside the State House.
But it isn't only smokers who are being abused.
Consider the restaurant smoking bans that the tobacco jihadists have successfully campaigned for in hundreds of towns nationwide. These are great for diners who don't like tobacco smoke, frustrating for those who do, and outrageously unfair to restaurant owners, who are forced to pay the price.
First and foremost, they pay a price in freedom. No one should be allowed to decide whether a restaurant is smoke-free or smoker-friendly except the entrepreneur whose livelihood is riding on the decision. If you own a restaurant (or a car dealership or a T-shirt shop or the Baltimore Orioles), you choose your clientele. The government has no right to turn customers from your door because it disapproves of their personal habits. It is an alarming comment on the state of American liberty that so many lawmakers, selectmen, and boards of health are prepared to trample the autonomy of restaurant owners now that smoking has become unpopular.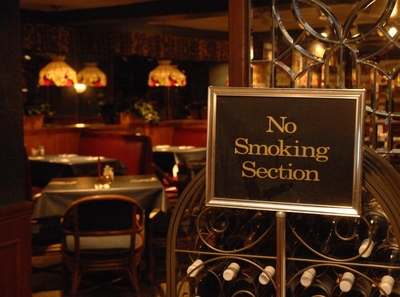 No one should have the right to decide whether a restaurant is smoke-free or smoker-friendly except the entrepreneur whose livelihood is riding on the decision.
(The hazards of secondhand smoke, real or imagined, are beside the point. Restaurant diners are not a captive audience. Those unwilling to share a room with smokers can complain to the owner or switch to another restaurant. Enough complaints or switches, and restaurateurs will get the message.)
Smoking bans diminish not only restaurant owners' freedom, but often their income as well. In town after town, owners have had to watch helplessly as smoking bans drove patrons away. Sometimes the loss of revenue has been so severe that staffers have been laid off.
That doesn't matter to the tobacco-haters. In their frenzy to punish smokers, they can't be bothered with unemployed waitresses. They can't even be bothered with the truth. Adding insult to injury, antismoking crusaders now go around claiming that smoking bans are actually good for business. A few weeks ago, the Massachusetts Department of Public Health released a study "proving" that restaurant earnings climb 5 percent when smokers are denied service. Isn't it strange that restaurateurs aren't celebrating this windfall?
Nobody believes that the Department of Public Health knows more about restaurant finances than restaurant owners do. If the owners say smoking bans are hurting business, it's a pretty safe bet that smoking bans are hurting business. So why would the state release a study that is illogical on its face?
For publicity.
In a letter to David Mulligan, Massachusetts' public health commissioner, the president of the National Smokers Alliance identifies the DPH study as "no more than a crude clone of a study by Stanton Glantz, the protocol for which is bicycled around the country for the precise purpose of convincing legislators that restaurant smoking bans will have no negative economic impact." Glantz is a leading antismoking activist at the University of California. He is not an objective researcher but a zealous partisan. His "research" is designed to yield a specific "finding," which can then be used to campaign against smoking. That isn't science. It's lobbying.
"The Massachusetts study," says the smokers' alliance letter, "was designed to advocate smoking restrictions and not to accurately and objectively evaluate them. On smoking, or any other public issue, that is unacceptable."
It is also par for the course. The war on tobacco has become too big, too powerful, and too rich to play by the rules. Those gripped by the lust to control the behavior of others aren't interested in honest research, or the property rights of restaurant owners, or passing laws that apply even in the State House. They're interested in making people do what they command.
Right now, they command: Stop smoking. Who knows what they'll command tomorrow?
(Jeff Jacoby is a columnist for The Boston Globe).
-- ## --
Follow Jeff Jacoby on Twitter.
Discuss Jeff Jacoby's columns on Facebook.
Want to read more Jeff Jacoby? Sign up for "Arguable," his free weekly email newsletter.