On the eve of taking office in 1980 as Zimbabwe's first black prime minister, Robert Mugabe — a leader of the fight against minority white rule — promised a government committed to reconciliation and equality.
"If yesterday I fought as an enemy, today you have become a friend and ally with the same national interest, loyalty, rights, and duties as myself," he said, addressing himself to his recent foes. Zimbabwe, he pledged, would embrace democratic tolerance and due process:
An evil remains an evil whether practiced by white against black or by black against white. Our majority rule could easily turn into inhuman rule if we oppressed, persecuted or harassed those who do not look or think like the majority of us. Democracy is never mob rule.
Yet by 1983, Mugabe's "democracy" had descended into mob rule far more brutal and lethal than anything Zimbabwe had experienced during the conquest of the land by the British imperialist Cecil Rhodes a century earlier.
Determined to suppress all political opposition, Mugabe ordered the fearsome Fifth Brigade — a North Korea-trained military unit — to move against the Ndebele minority in the country's southern province of Matabeleland. The Ndebele, who constituted about one-fourth of Zimbabwe's population, were supporters of Joshua Nkomo, a national hero and the leader of a key opposition party. Mugabe, a member of the country's Shona majority, unleashed what he called a gukurahundi — a "wiping away" — against the Ndebele in Matabeleland. Beginning in February 1983, thousands of victims were being massacred. Many were shot dead in public executions after being forced to dig their own graves. The atrocities committed by Mugabe's forces were reported on at the time by human rights organizations and international media. By 1987, the death toll carried out in Matabeleland had reached 25,000.
That didn't keep the University of Massachusetts from awarding Mugabe an honorary degree. In October 1986, Zimbabwe's increasingly ruthless ruler was extolled in a special convocation on the Amherst campus as a champion of human rights. The UMass chancellor, Joseph Duffy, hosted Mugabe at a dinner in his home, where he praised his leadership and economic reforms and expressed the hope that Mugabe's record in Zimbabwe was a preview of what a post-apartheid South Africa would look like.
It took 22 years for the UMass trustees to have second thoughts about the honor they had bestowed on the Zimbabwean butcher. Mugabe's honorary degree was revoked in 2008.
By then, Zimbabwe had become a hellhole. What was once a fruitful and prosperous land, the "breadbasket of Africa," was in economic ruin. Under Mugabe's demented misrule — a combination of Marxist fanaticism , unbridled greed, and a savage determination to crush political dissent — the country was engulfed in blood and poverty. By one estimate, 80 percent of Zimbabwe's adults were unemployed in 2007, and life expectancy had plummeted to 36 years. While Mugabe's kleptocratic loyalists and goons drove expensive cars and built lavish mansions, ordinary citizens were reduced to unspeakable degradation. Schoolteachers turned to prostitution to feed their children, the Times of London reported, while one-time accountants and bankers were reduced to menial labor or begging in the streets.
Mugabe, who died on Friday at 95, wasn't just another African strongman. He was a sociopath who scrupled at nothing to hold on to power. Murder, torture, theft, starvation — he had no objection to any of them. And the whole world knew it, and did nothing.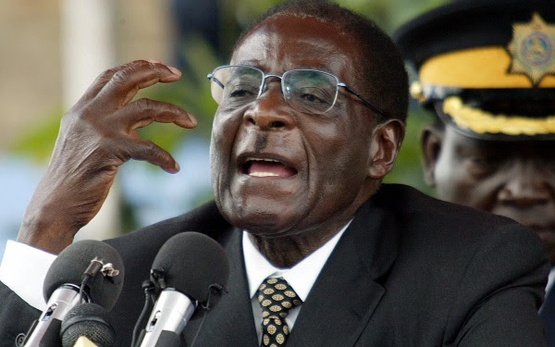 Robert Mugabe: "Let me be a Hitler tenfold!" he gloated.
Under Mugabe, rape became a favored means of political control. Thousands of Zimbabwean girls and women were sexually assaulted by policemen and members of the "war veterans," as the armed Mugabe loyalists called themselves. In 2002, journalist Christina Lamb filed a lengthy report in The Telegraph on the punishment meted out to "Dora," a 12-year-old whose father had made the mistake of voting for a party other than Mugabe's.
"The game we are about to play needs music," the Zimbabwean police constable said to the 12-year-old girl. But as he tossed a mattress on to the ground it was clear that it was no game that he was planning. For the next four hours the girl's mother and younger sisters, aged 9 and 7, were forced to chant praises to Robert Mugabe and watch Dora being gang-raped by five "war veterans" and the policeman.

"Every time they stopped singing the policeman and war vets beat them with shamboks and sticks," said Dora, crying and clenching her hands repeatedly as she recalled the ordeal which took place behind her family hut. . . "They kept thrusting themselves into me over and over again, saying, 'This is the punishment for those of you who want to sell this country to Tony Blair and the whites.' When they had finished it hurt so much I couldn't walk." . . .

Dora was raped because her father is a supporter of the opposition Movement for Democratic Change. He is not a candidate, not a party official, just a simple carpenter who had mistakenly believed that he lived in a country where he could vote for whom he liked. . . . Dora's echoing screams on the African night were a warning to all the other villagers as to what might happen to those who even think of defying the president again.
Even after all these years, Lamb's story in the Telegraph makes an enraging, terrifying, sickening read. And she was one of many journalists, human-rights activists, aid workers, and authors to report on Mugabe's horrors as they were happening. Those horrors were no secret. Mugabe made no effort to disguise his true nature. He boasted that he was "the Hitler of the time," wrote Zimbabwe native Peter Godwin in The Fear , a riveting 2011 chronicle of the carnage in his homeland. "Let me be a Hitler tenfold!"
Mugabe was a racist, who expelled thousands of white farmers from their property and incited his followers to violence against them because of their color. He was a notorious anti-gay bigot, describing gays as "lower than dogs and pigs " and attributing Zimbabwe's ills to the "gay gangsters" of the British government. He was an anti-Semite, who accused Jews of trying to destroy Zimbabwe's businesses and described white farmers as "so hard-hearted, you would think they were Jews."
Yet nothing Mugabe said or did, none of his crimes or violations of civilized norms, no amount of blood he shed or suffering he caused, prompted the free world to take action against him. I remarked once that a detachment of US Marines on its lunch break could have forced Mugabe from power, and that Africa would have been happier for it. But interference with the internal affairs of an African nation was always politically unthinkable. At one point, Zimbabwe's leading Christian cleric, the archbishop of Bulawayo, publicly implored the West to oust Mugabe. Even that made no impression.
It was only a palace coup in 2017 that finally ended Mugabe's depraved reign. Even then, there was no punishment for the man who inflicted so much agony on Zimbabwe. He kept his stolen riches and lived out his days in luxury. When he died last week, it was not at the end of a rope — the fate he deserved — but peacefully, in a hospital bed in Singapore, where he was being treated for his final illness.
"It is usually in bad taste to say of the recently deceased that his death came far too late," Graeme Wood remarked in The Atlantic on Saturday. But if Mugabe "had been hit by a bus on the streets of Harare 25 years ago, or crushed by a landslide of Chanel bags after one of his wife Grace's shopping sprees in London or Paris, the world would be a better place."
The world could have been a better place, if it had bestirred itself to get rid of Zimbabwe's tyrant. But it couldn't be bothered, and so rivers of blood flowed. Cry, the beloved country.
* * * * * * * * * * * * * * * * * * * * * * * * * * * * * * * * * * * * * * * * * * * * * * * * * * * * * * * *
(Jeff Jacoby is a columnist for The Boston Globe).
-- ## --
Follow Jeff Jacoby on Twitter.

"Like" Jeff Jacoby's columns on Facebook.
Want to read more Jeff Jacoby? Sign up for "Arguable," his free weekly email newsletter