NAIM SALAMEH, a Palestinian lawyer in Gaza, was impressed by how seriously the Israeli legal system took an accusation of corruption against Prime Minister Benjamin Netanyahu. A reporter for Israel's Channel One television station first leveled the allegation — that Netanyahu had agreed to appoint an attorney general who would secure a plea bargain for an embattled political ally. Police investigated and recommended that the prime minister be charged with fraud and breach of trust. Eventually, Israel's top prosecutors dismissed the case for lack of evidence. But Salameh was struck by the freedom of Israeli journalists and amazed that the police could interrogate senior officials, up to and including the prime minister.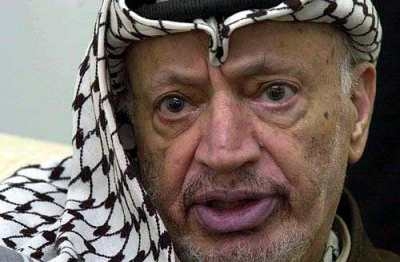 In Yasser Arafat's domain, power flows not from the people but from the barrel of an AK-47.
According to Bassam Eid, a Palestinian human rights activist, Salameh wrote an article praising Israel's legal standards and wondering "when we will see such examples applied in Palestinian Authority territory." He sent his piece to the Gaza Lawyers Union for publication in its journal. Instead the article was given to the Palestinian attorney general, who promptly had Salameh arrested on charges of slandering the Palestinian Authority.
Appeal for political liberty and go to prison: Behold democracy in Arafatland.
Reuters reported the Salameh story on Friday, May 2. It appeared a day later on Page A26 of The Washington Post. In most other news outlets, it didn't appear at all. Why not? If Israel's attorney general jailed a Palestinian lawyer because he called for more due process of law, it would be on front pages around the world. The imprisoned barrister would become an instant cause célèbre. Foreign ministries would trip over one another in their rush to call for his release. So why isn't it news when Yasser Arafat's government locks up an innocent man on trumped-up slander charges?
Because from Arabs — to be blunt — no one expects anything different.
The Palestinian Authority, which now governs the Gaza Strip and every major Arab town in the West Bank, is just another Arab dictatorship, no better than the two-dozen others that shred human rights across the Near and Middle East. There are no civil rights in Arafatland, no freedom of speech, no right to petition for redress of grievances, no habeas corpus, no independent judiciary. Critics of Arafat or his top henchmen are routinely jailed for months without being charged. Fair trials are nonexistent. Judges know that if they rule against the government, they are likely to be forced off the bench and arrested — or worse.
But the Palestinians are only Arabs, so nobody seems to care.
Let Israel announce plans to build some apartment houses in Har Homa, a barren tract in Jerusalem, and editorial pages everywhere erupt in outrage. European capitals blister with disapproval. The United Nations rushes into emergency session to condemn the Israeli affront. But let the Palestinian Authority resort to such "widespread use of torture and unlawful killings" that its citizens "are terrified of the security forces" — to quote Amnesty International — and no one loses a moment's sleep.
The double standard is gaping, but Israel has no cause to complain: It helped foster it. In their eagerness to promote the Oslo "peace process" with the PLO, former Israeli prime ministers Yitzhak Rabin and Shimon Peres were willing to ignore the human rights of ordinary Palestinians. Handing territory over to Arafat would curb terrorism, Rabin once asserted, because the PLO chief would "run affairs without the Supreme Court, without B'Tselem, without the bleeding hearts." (B'Tselem is an Israeli human-rights monitor that often assails Israel's treatment of Arabs.) In fact, terrorism has soared since Arafat acquired his own statelet. But the rest of Rabin's prediction, to the sorrow of the Palestinians, has proved all too true.
In Arafatland, power flows not from the people but from the barrel of an AK-47. Teachers who go on strike are rounded up by police. Students are warned in class that if they criticize the regime, their families will pay the price. The elected Legislative Council is powerless and without influence, disdained by Arafat and his confidants.
Early on, the Palestinian Authority crushed the relatively free press that had existed under Israeli occupation. "The PA has managed," Nadav Haetzni reported in Commentary last October, "to terrorize virtually every Palestinian publisher, editor, and journalist." Some newspapers, such as the daily Al-Nahar, Arafat simply ordered closed until the publisher agreed to print what the regime wanted printed. "Those failing to knuckle under, like the opposition paper Al-Ummah, were physically attacked," Haetzni wrote. "Arafat's security forces first confiscated the newspaper's press plates and then burned down its offices."
What Arafat and the PLO have established in Gaza and the West Bank is a brutal thugocracy that rules by terror, violence, and extortion. With such an entity, Israel has no hope of making peace; to keep giving it more land is delusionary and suicidal.
Meanwhile, Naim Salameh rots in prison, one more victim of Arab despotism. If Western journalists and diplomats had real respect for Arabs, Salameh's plight would be known the world over. But for most reporters as for most government officials, Arabs are a lesser people, their human rights not really worth bothering about. So what if there's no democracy in Arafatland? There's no democracy anywhere else in the Arab world. And most of us, apparently, couldn't care less.
(Jeff Jacoby is a columnist for The Boston Globe).
-- ## --
Follow Jeff Jacoby on Twitter.

"Like" Jeff Jacoby's columns on Facebook.
Want to read more Jeff Jacoby? Sign up for "Arguable," his free weekly email newsletter