FOR SHEER INTELLECTUAL excitement, I have never known another moment quite like it.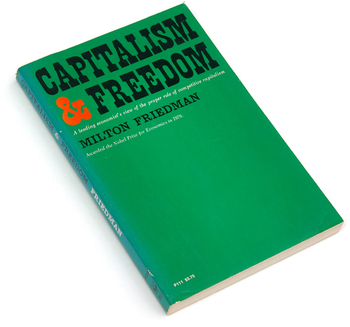 I was a freshman at George Washington University, just beginning my first semester on a college campus. The course was "Politics and Values," and the assigned reading was heavy on political economy. There were books by John Kenneth Galbraith, Robert Heilbroner, Louis Kelso, two or three other economists. We were reading them at the rate of about one a week; whatever impressions these books made on me at the time faded from memory long ago.
But one book was different. Milton Friedman's Capitalism and Freedom electrified me. I was riveted by it. Like fireworks lighting up the July 4th sky, Friedman's themes dazzled me — the genius of markets, the power of prices, the link between prosperity and liberty, the miracles made possible when individuals can choose freely. The sensation was almost physically thrilling. I can still see myself sitting at a study carrel in the GW library, devouring the book's chapters, intoxicated by its ideas, awash with the pleasure of learning. I was experiencing something new — the elation of intellectual discovery. Capitalism and Freedom changed the world as I knew it.
To be sure, Milton Friedman, who began teaching at the University of Chicago in 1947 and won the Nobel Prize in 1976, has changed the world as many knew it. Capitalism and Freedom — already 15 years old when I started college — is one of the modern classics of economics. Between his books, his television series, ("Free to Choose"), and the Newsweek column he wrote for 18 years, he may have educated more people and opened more minds than any other economist in the last 50 years.
Last week, at a ceremony in Washington, Friedman received the first Lifetime Achievement Award of the Templeton Honor Rolls, a new prize created to celebrate excellence in American higher education. He had to beat some tough competitors to win the honor, including Harvey Mansfield Jr., Harvard's great scholar of political philosophy and statesmanship, and James Q. Wilson of UCLA, the renowned authority on crime and human character. Say what you like about the wretched condition of American universities, but all is not lost if standards are still being set by the likes of Friedman, Mansfield, and Wilson.
And that, in essence, is the point of the Templeton Honor Rolls — that all is not lost.
True, English majors at Georgetown no longer have to study Shakespeare or Chaucer. True, Emerson has abolished the requirement that students take one course in Western Civilization. True, Yale now offers nearly 50 courses in homosexual studies, including "Lesbian, Gay, and Transgender Cinema," which (to quote the catalog) includes readings in "queer theory" and "weekly screenings" of gay movies. True, Stanford has a course in "Black Hair as Culture and History" that covers — among other topics — "the rise of the Afro" and "the birth of straightened hair." True, much of higher education has become a swamp of political correctness, victim chic, and anti-Western zealotry.
But even in swamps, wildflowers bloom. The creators of the Templeton Honor Rolls — the philanthropist John Marks Templeton and the Intercollegiate Studies Institute, a campus network dedicated to the classical tradition in liberal arts — have set themselves the task of finding the wildflowers in contemporary academe and pointing them out to parents, students, and alumni.
At the Washington ceremony last week, 126 outstanding colleges, departments, scholarly books, and professors were inscribed in the first Templeton Honor Rolls. Those were in addition to two $25,000 prizes: the lifetime achievement award bestowed on Friedman, and an award for the outstanding book of the year, Gertrude Himmelfarb's study of Victorian-era moral reasoning, The De-Moralization of Society.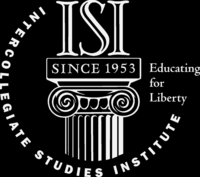 The judges received more than 800 nominations for the awards, which may explain the enthusiasm of former Treasury Secretary William Simon, who chaired the event: "On every college campus in America, the fortunate student can still discover brilliant, inspiring, and innovative professors committed to learning, rather than indoctrination."
Every college campus? A wee exaggeration, surely. Then again, the stand-outs are a far-flung lot. The 48 honored professors, for instance, range from John Alvis at the University of Dallas (an expert on Dante, Milton, and Solzhenitsyn) and Robert George at Princeton (a scholar of natural law) to Leon Kass at the University of Chicago (whose work synthesizes bioethics and biblical literature) and Christina Hoff Sommers at Clark (a leading theorist of ethics and devastating critic of gender feminism). The honorees in the other categories are no less geographically diverse.
Which means that the Templeton Honor Rolls double as a sort of buyer's guide to the finest that American higher education has to offer. College-bound students, or anyone who cares about a college-bound student, can obtain a copy (free except for postage) from the Intercollegiate Studies Institute. (Call 1-800-526-7022 or e-mail [email protected].)
No student should go through college without experiencing what I experienced with Capitalism and Freedom — the jolt of illumination, the joy of a galvanizing insight. If the Templeton awards reach their audience, fewer students will.
(Jeff Jacoby is a columnist for The Boston Globe. His website is www.JeffJacoby.com).
-- ## --
Follow Jeff Jacoby on Twitter.

"Like" Jeff Jacoby's columns on Facebook.