KING HUSSEIN'S EULOGIZERS mean well, but in their extravagant and fulsome panegyrics, they are doing Jordan's departed ruler no favor. There is much to praise in Hussein's works, but he is being made to sound as if he were the greatest statesman and humanitarian of the era -- Winston Churchill, Mother Teresa, and Andrei Sakharov rolled into one.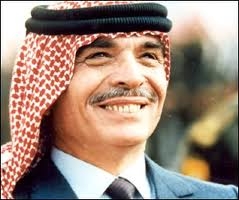 From Kofi Annan, the United Nations secretary general: Hussein's "true majesty found expression in a lifelong struggle to bring peace to the ordinary men and women of the Middle East."
From the Chicago Tribune: "A mighty voice for peace in the Middle East fell silent over the weekend, sending a shudder around the world…. The void he leaves is immense," making more elusive "the comprehensive peace Hussein worked so tirelessly to achieve."
From Hillary Clinton: "How much better off this region and our world would be if … all of us stopped to think: How would King Hussein have acted? What would he have said?"
This is overkill. Hussein was indeed a voice for peace -- but only in the last years of his life. For most of his reign he was something very different: an autocrat who used violence to crush his rivals, punish Israel, and inflate his reputation in the Arab world. It is impossible to truly admire the peacemaker he became without knowing something about the warmonger he used to be.
In 1967, in the worst blunder of his career, Hussein spat on the hand that reached out to him in peace.
The hand was Israel's. War with Egypt and Syria was looming, and the Israelis fervently hoped to avoid a fight with Jordan as well. Publicly and privately, they implored Hussein to stay out of the war, promising that there would be no attack on Jordan. But on June 5, the king began a bombardment across the border. Israel sent one last plea via the Norwegian general Odd Bull, head of the UN observers in Jerusalem.
"We shall not initiate any action whatsoever against Jordan," it read. "However, should Jordan open hostilities, we shall react with all our might."
Hussein replied by intensifying the shelling in Jerusalem and bombing the outskirts of Tel Aviv. Radio Amman announced that Israelis should be "torn to bits." Hussein himself went on the air to declare: "The hour of revenge has come." It wasn't mere rhetoric. Israeli columnist Elyakim Haetzni, a former member of parliament, recalled on Monday how after the Jordanians retreated from the West Bank, "Israeli soldiers found written orders from the king instructing his men to kill everybody -- men, women, and children -- in Motza and Sha'alvim, two Jewish communities situated between Jerusalem and Tel Aviv."
It was said of Hussein this week that his defeat in the Six Day War showed him that there was no alternative to peace with Israel. In fact it showed him no such thing. After the war, the king continued to allow deadly attacks on Israel to be launched from Jordanian territory. He welcomed Yasser Arafat and the terrorists -- fedayeen -- of the PLO into his kingdom, declaring: "We have come to the point where we are all fedayeen."
But Arafat overplayed his hand. The PLO attempted to seize control of Jordan in 1970, triggering the brief civil war later dubbed "Black September." Arafat's challenge had many supporters but Hussein repelled it with overwhelming force. Thousands of Palestinians, many of them civilians, were massacred. It was the bloodiest month of Hussein's reign. In all the tributes to Hussein the lifelong peacemaker, the slaughter of 1970 went largely unmentioned.
Largely unmentioned as well was Hussein's decision during the Yom Kippur War of 1973 to send the 40th Armored Brigade, his crack tank force, to join the Syrian assault on Israel. Or his assertion in 1980 that the "first and basic condition for just peace" was the elimination of Israel. Or his embrace of Saddam Hussein following Iraq's invasion of Kuwait -- an embrace so wholehearted that the king proclaimed Saddam an "Arab patriot" and funneled military aid to him during the Gulf War.
Jordan paid a steep price for the king's bad bet on Iraq. A billion dollars in annual aid from Saudi Arabia and the Gulf states were cut off. Tens of thousands of Jordanian Palestinians, expelled from Kuwait, came streaming home. Only then, desperate to get back into America's good graces, did Hussein at last turn to peacemaking.
The transformation was astonishing. Not since Anwar Sadat had an Arab leader thrown himself with such fervor into the cause of peace -- real peace, not merely a frigid absence of hostilities. "I am determined," the king said of the 1994 treaty normalizing relations between Israel and Jordan, "not to have … a peace between governments, but a peace between people." It was a promise he kept.
An extraordinary moment occurred in March 1997, when Hussein visited the grieving families of seven Israeli girls shot dead by a deranged Jordanian soldier. He knelt before the mourners, tears in his eyes, words of comfort on his lips. It was an act of humanity and poignancy unprecedented in modern Middle East history.
The greatness of King Hussein was not that he devoted his life to peace. It was that he was able to rise above himself, to break through a mindset of violence and become an apostle of reconciliation. That is what the world has lost, and why Israelis lowered their flags to half-mast when their former enemy died last Sunday.
(Jeff Jacoby is a columnist for The Boston Globe).
-- ## --
Follow Jeff Jacoby on Twitter.

"Like" Jeff Jacoby's columns on Facebook.