FOR ANYONE gauging the Republican presidential contest, this week's most significant poll results weren't the ones tabulated in New Hampshire last night. They were the ones released by Gallup yesterday morning.
To say such a thing is heresy, I realize, given the long months of New Hampshire campaigning and the media's obsessive focus on the state over the last few weeks. But more telling than Mitt Romney's long-expected victory in the Granite State -- he drew about 38 percent of the vote, followed at a considerable distance by Ron Paul and Jon Huntsman -- was Gallup's finding that among Republicans (and Republican-leaning independents) nationwide, only the former Massachusetts governor is regarded as an "acceptable" GOP nominee across the ideological spectrum.
A large majority of both conservative Republicans and moderate/liberal Republicans -- 59 percent in both cases -- told Gallup that a Romney nomination for president would be acceptable. No other candidate had majority support among moderate/liberals; and only Newt Gingrich (51 percent) and Rick Santorum (50 percent) were deemed acceptable by at least half of the conservatives.
Granted, being seen as "acceptable" by most Republicans isn't the same as winning their hearts and minds. Romney has never fired the Republican base with enthusiasm, and the party's anyone-but-Romney contingent certainly hasn't thrown in the towel. According to Gallup's tracking polls, only 30 percent of Republican voters say that Romney is the candidate they would prefer to nominate. But that's after months in which conventional wisdom has insisted that Romney's ceiling of support was no higher than 25 percent. And it's significantly higher than anyone else in the field is drawing.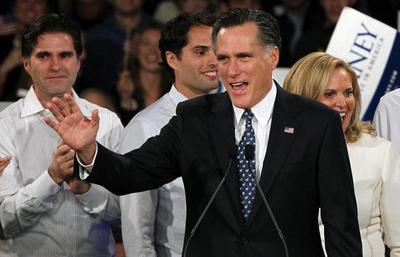 Mitt Romney waved to supporters at Southern New Hampshire University, after he was projected the winner of Tuesday's primary.
The old saw is that Democrats fall in love with their candidates while Republicans fall in line behind theirs. It's a dubious rule of thumb -- were Democrats in love with John Kerry in 2004? With Michael Dukakis in 1988? -- but this much is true: Conservative insurgents rarely win the GOP presidential nomination. The nod almost always goes to the party establishment's candidate.
This year that candidate is Mitt Romney. If Gallup's numbers are right -- and New Hampshire offers no reason to doubt them -- the GOP nomination is now his to lose.
(Jeff Jacoby is a columnist for The Boston Globe).
-- ## --
Follow Jeff Jacoby on Twitter.