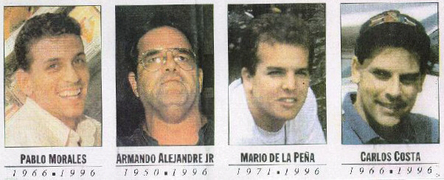 THEY WERE TRYING to save lives. Three years ago this week, they paid with their own.
When Armando Alejandre, Carlos Costa, Mario de la Pena, and Pablo Morales took to the skies that day in their little blue-and-white Cessna 337s, their plan was to search the Florida Straits for stranded boat people, refugees fleeing Cuba in makeshift rafts or flimsy inner tubes. There was little enough the fliers could do for any rafters they came upon -- toss down food and bottled water, radio their location to the Coast Guard -- but that little could make the difference between life and death.
Of the four, Carlos was the most experienced. He had flown more than 500 such missions for Brothers to the Rescue, and had saved scores of boat people from drowning or dying of thirst. Armando, by contrast, was going up for only the second time. What all four had in common was a love of American liberty -- and a profound concern for any Cubans so desperate to escape Fidel Castro's Caribbean hellspot that they would risk their lives to get away.
On Feb. 24, 1996, Carlos, Armando, Mario, and Pablo took off from an airfield in Opa-Locka, Fla. They intended to fly to just below the 24th parallel, well north of Cuba's territorial waters. Both Cessnas contacted Havana air-traffic controllers as they approached the 24th parallel, identifying themselves and giving their position. Whereupon the Cuban Air Force, without warning and without reason, scrambled two MiG fighters and blew the rescue planes out of the sky.
The planes and their passengers were disintegrated by the Cuban MiGs. Only a large oil slick marked the spot where they went down. No bodies were ever recovered.
Three of the men -- Carlos, Mario, and Armando -- were US citizens. Pablo, a former refugee who had himself been saved by Brothers to the Rescue in 1992, was a permanent US resident. What happens when four American civilians are butchered in cold blood, over international waters, by the air force of a Third World dictatorship? What terrible retribution does the United States exact for a quadruple murder so barbaric and unprovoked?
The astonishing answer is: Nothing happens. There is no retribution. Indeed, the Clinton administration takes the position not only that Castro must not be punished for the four lives he destroyed, but that the victims' families must not be permitted to recover anything for their loss.
In the wake of the shoot-down, under intense political pressure, President Clinton agreed to sign the Helms-Burton Act. Title III of the statute allows American citizens whose property was confiscated by the Cuban government -- Castro nationalized billions of dollars' worth of American assets in the 1960s -- to file suit against any foreign company using that property. Title IV bars any officer of a foreign company trafficking in stolen American property from receiving a visa to enter the United States.
Properly enforced, Helms-Burton would weaken Castro's grip on power by reducing the flow of foreign capital into his treasury. But Helms-Burton is not properly enforced. Title III has never taken effect because Clinton keeps suspending it (as the law permits him to do if he finds that a suspension "will expedite a transition to democracy in Cuba"). Title IV has never taken effect because the State Department refuses to carry it out.
The hobbling of Helms-Burton is a stinging insult to the memory of the four murdered men. But the Clinton administration has delivered a cut unkinder still.
In 1996, the families of Armando, Carlos, and Mario sued the Cuban government for damages caused by the wrongful deaths of their loved ones, a legal remedy specifically authorized by the Anti-Terrorism and Effective Death Penalty Act.
In December 1997, Senior US District Judge James Lawrence King awarded the plaintiffs $187.7 million in damages. "Cuba's extrajudicial killings ... were inhumane acts against innocent civilians," he wrote in his final judgment. "The fact that the killings were premeditated and intentional, outside Cuban territory, wholly disproportionate, and executed without warning ... makes this act unique in its brazen flouting of international norms."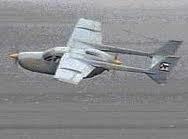 One of the little Cessna-337 planes used by Brothers to the Rescue in its humanitarian missions. It was blown out of the sky by a Cuban MiG-29 fighter jet.
But when the families attempted to collect their judgment out of frozen Cuban assets, the Clinton administration blocked them. The president famous for feeling people's pain is less concerned with the pain of grief-stricken Americans, it would appear, than with the pain Castro might feel if the judgment were paid.
The administration's position is staggering. Castro is an open and declared enemy of the United States and has been for 40 years. In sending combat aircraft to slaughter four unarmed Americans engaged in humanitarian rescue work, he committed an act of war.
The response of the United States should have been to remove Castro from power and put him in the dock for crimes against humanity. (For the murder of just one American in 1989, the United States invaded Panama and seized Manuel Noriega.)
Clinton's appeasement of Castro is a cruel betrayal. The families of the dead Brothers to the Rescue deserve better from their government. And the unhappy people of Cuba, bleeding under Castro's whip, deserve better from their free and powerful neighbor to the north.
(Jeff Jacoby is a columnist for The Boston Globe).
-- ## --
Follow Jeff Jacoby on Twitter.

"Like" Jeff Jacoby's columns on Facebook.