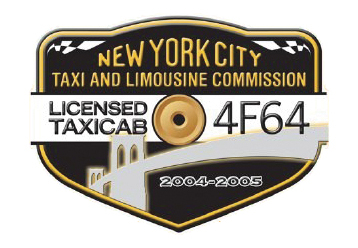 HERE'S ONE for the Guinness World Records people: Two New York City taxi medallions were sold last month for $1 million apiece. That's the highest price ever paid for the right to operate a car as a taxicab in The City That Never Sleeps. It's also an expensive lesson in the harm caused to consumers and would-be entrepreneurs by overregulation and the strangling of competition.
By law, every cab in New York has to have an official medallion -- the numbered metal plate nailed to the hood -- but the number of medallions is fixed at 13,237. When the city first issued taxi medallions in the 1930s, they cost $10 each. But before long the demand for taxi ownership had outstripped the limited supply of medallions. Since City Hall wasn't issuing new ones, the only way to get a medallion was to buy one from an existing owner. Over time the value of those metal tags went through the stratosphere.
In the years after World War II, a New York City taxi medallion could be had for $2,500. By the mid-1970s the going price was $50,000. In 1985, when a medallion changed hands for $100,000, it made the front page of The New York Times. That sale was arranged by a "taxi financing specialist" named Nat Goldbetter, a one-time cabdriver who discovered he could make a better living arranging medallion sales on the secondary market. By coincidence, it was Goldbetter who arranged the sale of the million-dollar medallions last month, landing him again on Page 1. "Nobody ever thought the medallion would get to this point," he marveled.
In a rational market, Goldbetter's industry wouldn't even exist. A taxi medallion, after all, has no intrinsic value -- it is merely the government's permission to use a car to transport passengers for a fee. Acquiring a medallion isn't like acquiring a dental practice or some other going concern: It doesn't come with a built-in customer base or first dibs on popular routes. It doesn't include the price of gas or insurance, let alone a car. A medallion represents nothing but official approval to be in the cab business. No one has to invest a fortune to get the government's OK to sell tacos or put out a newspaper or practice podiatry. Why should anyone have to invest a fortune -- or hire a "taxi financing specialist" -- to get the government's OK to own a cab?
The medallion system is a classic illustration of what economists call "rent-seeking" -- manipulating the political system to gain economic benefits without providing any additional value to society in exchange. Imposing caps on the number of taxis enriches existing owners with windfall profits. But by making the cost of cab ownership obscenely high, it prevents countless would-be cabbies from going into business for themselves. And by stifling competition, it drives fares through the roof while lowering the quality and availability of service.
New York isn't alone in blighting its taxi market like this. In Boston, which also adopted a medallion system in the 1930s, the little metal plates now sell for $400,000 and cab fares for most rides are the highest of any big city in North America. The number of cabs is limited to 1,825, which is why trying to get a taxi in the city's outlying neighborhoods can be so tough. Cabbies -- most of whom can't afford a medallion of their own and instead must pay stiff fees to lease somebody else's -- naturally gravitate to the most lucrative routes.
Even more obnoxious is the government-protected monopoly in Milwaukee, which in 1991 imposed a citywide cap of just 321 taxis, yielding a ratio of 1 taxi for every 1,850 residents. (By comparison, the ratio in Boston is about 1 to 340; in Washington, DC, where the number of cabs is not artificially limited, it's 1 to 90.) The cost of a taxi permit has soared from $85 to $150,000, which is well above the price of an average Milwaukee house.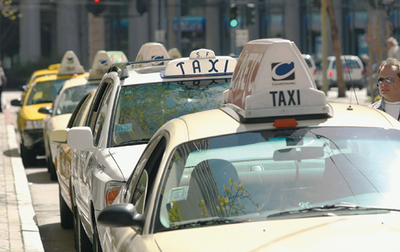 "In the classic story of entrepreneurship, someone starts a taxi business in order to save up enough money to buy a house," says attorney Anthony Sanders. "In Milwaukee, you need to save up enough money to buy a house just to start a taxi business." Sanders works for the Institute for Justice, a public interest law firm that litigates around the country in defense of the right of individuals to earn an honest living. The institute, which successfully defended reforms that ended a taxi cartel in Minneapolis, recently filed a lawsuit challenging Milwaukee's cap on taxi permits as unjust and unconstitutional.
Can you imagine City Hall trying to fix the number of shoe stores or web designers or CPAs allowed to operate in town? Arbitrary limits on the number of taxicabs should be considered just as ridiculous. The government has no right playing favorites, or crushing competition. The Institute for Justice describes itself as advocating for fairness and economic liberty; what it really seeks to protect is the American Dream. In Milwaukee today. In New York and Boston, perhaps, tomorrow.
(Jeff Jacoby is a columnist for The Boston Globe).
-- ## --
Follow Jeff Jacoby on Twitter.
Discuss his columns on Facebook.
Want to read more? Sign up for "Arguable," Jeff Jacoby's free weekly email newsletter