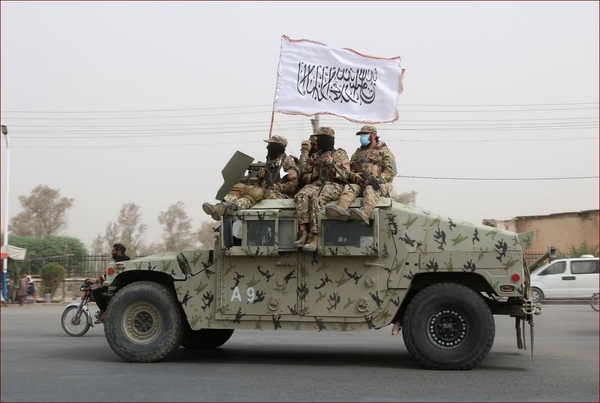 Taliban gunmen in Kandahar patrolled the streets during a celebration marking the second anniversary of the withdrawal of US troops from Afghanistan.
THE AMERICAN withdrawal from Afghanistan was completed two years ago, when the last C-17 transport plane departed Kabul airport just before midnight on Aug. 30, 2021.
"There's a lot of heartbreak associated with this departure," said General Kenneth McKenzie, who headed the US Central Command. Yes, and a lot of humiliation, too.
The American pullout was a bloody shambles. At a stroke it undid almost everything the US-led coalition had accomplished in its effort to give Afghanistan's people a chance at life free from Islamist dictatorship. The scenes of death, chaos, and desperation that accompanied the abrupt departure contradicted every assurance President Biden had given when, against the advice of his military advisers, he ordered the pullout to proceed.
"We will not conduct a hasty rush to the exit," Biden had insisted. "We'll do it responsibly, deliberately, and safely." In a July briefing, he confidently assured Americans that they would not see "the Taliban overrunning everything and owning the whole country." Soon after, the Taliban overran everything and took ownership of the whole country. Then the White House expressed confidence that the Taliban would provide safe passage for people rushing to the airport in hopes of evacuation. Instead, a suicide terrorist detonated a bomb at the airport's Abbey Gate entrance, killing 13 US service members and at least 170 Afghan civilians.
Biden maintained at the time that he did "not regret" his decision to quit Afghanistan — a policy first ordered by Donald Trump, then vigorously embraced by his successor. He has neither wavered from that stance nor acknowledged how much harm the pullout caused. "I make no apologies for what I did," Biden told reporters last year. In June, the State Department released a report belatedly conceding that the departure from Afghanistan had been ill-planned. Yet when a reporter inquired if Biden was prepared to acknowledge that the pullout had been marked by "failure and mistakes," his response was caustic. "Read your press," he hissed. "I was right."
Recently the mother of Marine Staff Sergeant Darin Taylor Hoover — one of the Americans killed in the airport massacre — broke down in tears as she testified about the botched 2021 operation and the administration's stubborn claim that it has nothing to apologize for. "Why would they just not say, 'Oh, we made a mistake. Our plan was wrong. I'm so sorry.' But no, we didn't get that," she said. Two days later, State Department spokesperson Matthew Miller offered condolences to the families of the slain service members but stuck to the White House line when asked if the administration still considers the Afghanistan withdrawal a success: "We believe it was the correct policy choice," Miller stolidly told reporters.
The ability to admit error is a crucial element of leadership and maturity. Shallow presidents like Biden and his predecessor can never bring themselves to concede that they were wrong, even when it is evident to everyone else. Great presidents acknowledge their blunders. During the Civil War, Abraham Lincoln badly misjudged General Ulysses Grant's strategy during the Vicksburg campaign. When Vicksburg surrendered, Lincoln sent Grant a mea culpa: "I now wish to make a personal acknowledgment," he wrote, "that you were right and I was wrong."
Will Biden ever confess he was wrong about Afghanistan? The United Nations reported last week that the Taliban have killed more than 200 former Afghan government officials. Volker Türk, the UN's high commissioner for human rights, said the extrajudicial killings, often occurring after individuals had been "assured that they would be not targeted," were part of a larger wave of human rights violations, including torture and disappearances. Public executions and whippings have returned to Afghanistan. Between 4,000 and 6,000 fanatical Islamic State fighters have infiltrated the country.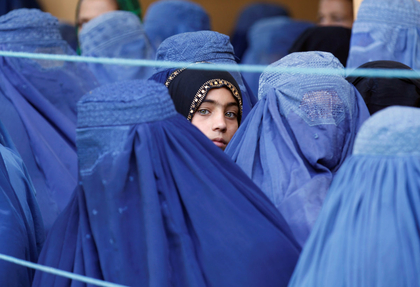 Girls and women in Afghanistan are forbidden to show themselves in public. Since the 2021 Taliban takeover, Afghanistan has become a land of repressive gender apartheid.
Most unspeakable of all is the misery of Afghanistan's girls and women, who are subject to countless restrictions that didn't exist as long as US boots were on the ground. Schooling for girls now ends at sixth grade and higher education is out of the question. Women are barred from gyms, from jobs with non-governmental organizations, from national parks, from boarding planes without a male escort — and from showing their faces. Twenty years of progress and rising equality have been erased, replaced, in the UN's words, with "a system founded on the mass oppression of women that is rightly and widely considered gender apartheid."
Two years ago this week, Biden solemnly vowed that he would "continue to speak out for basic rights of the Afghan people, especially women and girls." The betrayal is his, but all of us are shamed.
(Jeff Jacoby is a columnist for The Boston Globe).
-- ## --
Follow Jeff Jacoby on Twitter.
Discuss his columns on Facebook.
Want to read more? Sign up for "Arguable," Jeff Jacoby's free weekly email newsletter.