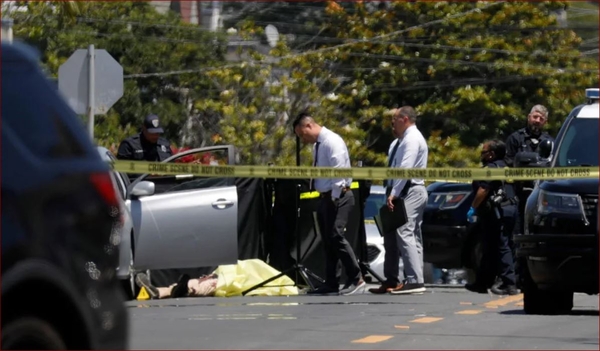 Police investigate a homicide on 13th Avenue in Oakland, Calif., on Sunday, July 17, 2022. Violent crime in the city last year was 233% above the national average.
THE MOST significant story involving the NAACP in recent days was not the organization's national convention, which opened July 28 in Boston. It was the public letter released one day earlier by Cynthia Adams, the president of the NAACP chapter in Oakland, Calif. The letter, which was also signed by Bishop Bob Jackson of Acts Full Gospel Church, the city's largest house of worship, implored public officials to declare a state of emergency and confront the explosion of crime that is devastating Oakland.
"Oakland residents are sick and tired of our intolerable public safety crisis that overwhelmingly impacts minority communities," Adams and Jackson wrote. "Murders, shootings, violent armed robberies, home invasions, car break-ins, sideshows, and highway shootouts have become a pervasive fixture of life in Oakland."
Violent attacks and serious property crimes have indeed become pervasive in California's eighth most populous city.
In the first seven months of 2023, according to the Oakland Police Department, there have been 15 percent more violent crimes than in the same period last year, and property crime has increased by 28 percent. In 2022, the aggregate crime rate in Oakland was 175 percent higher than the national average — and violent crimes occurred at a rate 233 percent above the national average. That, in turn, followed the previous year's explosion in homicides, shootings, assaults, and carjackings.
"Crime is out of control in the city of Oakland," then-police chief LeRonne Armstrong said in June 2021. Yet Oakland's city councilors voted that month to defund the police, diverting nearly $18 million from the department's budget and cutting 50 police officers from the force.
Now, two years later, amid shocking levels of mayhem and murder, the local NAACP president and the city's foremost Black pastor are pleading with city officials to open their eyes.
"African Americans are disproportionately hit the hardest by crime in East Oakland and other parts of the city," they write. They are under no illusions about where the blame lies. It isn't systemic racism or white privilege or out-of-control cops that have made Oakland so unsafe. It is the political assault on common-sense policing — the replacement of tried-and-true law enforcement practices with an ideology from which even lifelong liberals like former Massachusetts governor Michael Dukakis have recoiled.
"Failed leadership, including the movement to defund the police, our District Attorney's unwillingness to charge and prosecute people who murder and commit life-threatening serious crimes, and the proliferation of anti-police rhetoric have created a heyday for Oakland criminals," the NAACP letter declares. "If there are no consequences for committing crime in Oakland, crime will continue to soar."
The district attorney they referred to is Pamela Price, who ran for office on a progressive platform of ending "mass incarceration," rooting out "racial, socioeconomic, and gender disparities," and downplaying the conviction of criminals when evaluating prosecutors' job performance. Her response to the open letter was to accuse its authors of promoting "a false narrative on such an important matter." She had thought, she said peevishly, that she could "expect more from Bishop Bob Jackson and the Oakland Chapter of the NAACP."
Another critic of the NAACP letter was Cat Brooks, a founder of Oakland's hard-left Anti Police-Terror Project, which seeks, in its words, to "radically transform — and eventually abolish — police and policing as we know it." The NAACP chapter president and the bishop, Brooks told the San Francisco Standard, are "completely detached from what's actually happening."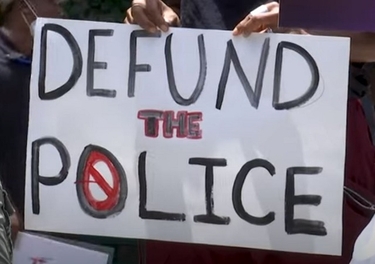 Oakland's city council voted in 2021 to divert nearly $18 million from the police department budget. Since then, crime in the city has only grown worse.
At least no one called them the "Black face of white supremacy." That was the smear hurled by media liberals at Larry Elder, the popular Black radio talk host who ran against Gavin Newsom in California's 2021 gubernatorial recall election. A longtime conservative, Elder had long emphasized the very point made last week by Adams and Jackson in their open letter: that crime increases when criminals are not arrested and prosecuted. It was ridiculous and shameful to attack Elder for saying so. But now two of Oakland's foremost nonpolitical Black leaders are decrying the damage caused by progressive crime policies, and no one is going to play the race card against them.
Each year, tens of thousands of Oakland residents are victimized in criminal attacks. Preventing shoplifting, car jackings, armed robberies, and homicides is not a conservative or a liberal goal. It is why governments exist in the first place. "It is not racist or unkind to want to be safe from crime," write Adams and Jackson. "No one should live in fear in our city." For far too long, honest discussion of violent crime has been stifled in the name of social justice. Bravo to the Oakland NAACP for refusing to keep silent any longer.
(Jeff Jacoby is a columnist for The Boston Globe).
-- ## --
Follow Jeff Jacoby on Twitter.
Discuss his columns on Facebook.
Want to read more? Sign up for "Arguable," Jeff Jacoby's free weekly email newsletter.